Iraqi security forces on Monday (May 11th) arrested members of the Thar Allah Islamic Party in the southern city of Basra, in a move many see as a promising sign the new government is serious about curbing the influence of Iran-backed militias.
The arrests came after armed members of the militia opened fire on dozens of angry protestors Sunday as they tried to storm the Thar Allah Islamic Party headquarters in Basra, killing a protestor and wounding five others.
A security force raided the building from which live bullets were fired at the demonstrators, Prime Minister Mustafa Kadhemi's media office said in a statement.
"All those inside the building were arrested, the weapons and ammunition in their possession were confiscated, and the suspects were brought to court to receive just punishment," it said.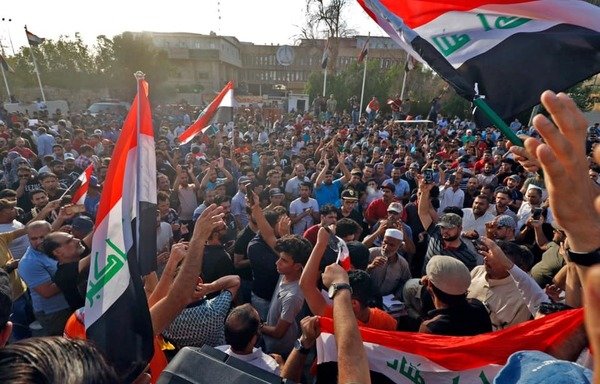 Press reports quoted Basra police chief Maj. Gen. Rashid Fleih as saying that "five members of the Thar Allah Islamic Party were arrested during the operation".
The security force in charge of executing the arrest warrants "shut down the group's offices" near the protest square in the area of al-Maqal in central Basra.
Promising sign
Observers said the operation is the first indication that the new government headed by Kadhemi is committed to curbing the influence of armed groups accused of violence against demonstrators.
The operation "is a gesture deserving of support", said Thaer al-Bayati, secretary general of the Council of Arab Tribes in Salaheddine.
It is a step on the path to "preserving the rule of law... and consolidating stability", he told Diyaruna.
The operation affirms that the current government is acting on its pledges to the people, "including protecting demonstrators, clamping down on [illegal] weapons in the hands of rogue militias and gangs, and curbing their crimes", he added.
It also gives hope to the Iraqi people that the government will work to "weaken the Iranian regime's influence and its support for militias that sow chaos", al-Bayati said.
The protestors accuse the Thar Allah Islamic Party of being behind the killing of protestors and the suppression of demonstrations by force, he said.
The militiamen also are accused of running large-scale oil smuggling operations, controlling Iraqi ports and overtaking state property, he said.
Led by Yousuf Sannawi, Thar Allah was involved in armed violence in Basra during the height of sectarian violence in the country between 2006 and 2008.
Confronting these militias that have a direct relationship with Iran's Islamic Revolutionary Guards Corps (IRGC) "is a difficult task fraught with many difficulties and challenges", al-Bayati said.
Its success hinges on "the public and the politicians' support of any effort to degrade Iran's influence in Iraq and curb its harmful interference in its affairs", he said.