With the decline of global oil prices, the Iraqi government is taking steps to diversify its revenue-generating sectors in an effort to boost national production and reduce reliance on imports, especially in the agricultural sector.
The National Food Security Committee, inaugurated April 22nd, is the government's strategic programme for agricultural development over the next five years.
"We hope this programme will achieve full food security regarding all plant and animal based products and that this will complement what we began over the past few years in terms of planning and steps taken to achieve this goal," Ministry of Agriculture spokesman Hameed al-Nayef told Diyaruna.
"We have succeeded in meeting our national requirements for several basic crops such as wheat," he said, pointing to a yield of five million tonnes from last season's harvest and an expected six million tonnes from the next.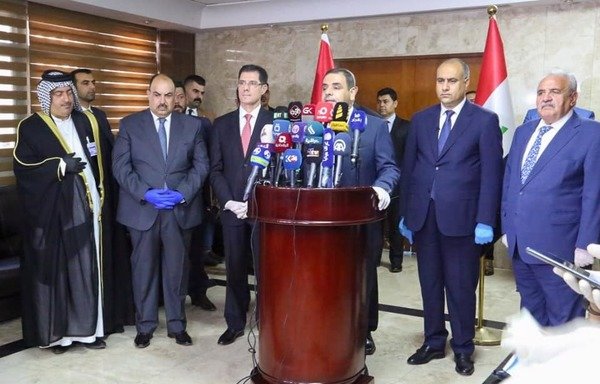 "We also have managed to achieve self-sufficiency in 25 plant and animal products, including aubergines, dates and eggs," he said. "But we still have shortages of certain other fruits and vegetables, dairy products and processed foods."
The new programme aims to identify obstacles and issues associated with agricultural development, and suggests solutions to achieve integrated food security, al-Nayef said.
Some of these challenges include development of the irrigation system, which has not been upgraded since the 1950s, he said.
"The programme recommendations in this regard include a campaign to open canals and build water pipes for farmers, as well as providing modern irrigation supplies," he said.
"Our plans also focus on attracting investment in agriculture and livestock cultivation as we have land for this purpose totalling nearly one million acres readily available for high growth animal husbandry businesses," al-Nayef said.
The programme aims to increase the total area of cultivated land in Iraq from 12 million to more than 20 million acres, which should be enough to achieve food security across a host of crops, he said.
Boosting agricultural output
Agricultural output over the past several years "has significantly improved as levels of grain production have increased in a healthy way", said economist Abdul Rahman al-Mashadani.
"Crops like tomatoes that were imported at a cost of $2 billion in 2018 could be homegrown, and that money could instead be saved if crops no less strategically important than grains would also be cultivated," he told Diyaruna.
"The contribution of the agricultural sector to Iraq's gross domestic product (GDP) does not exceed 3%, but it has the potential to reach 16% or more if proper development is directed towards this sector," he said, pointing out that "Iraq was an agricultural country before being an oil producing one."
"Any revival of the agricultural sector would contribute towards bringing down unemployment levels, since this sector can absorb nearly 30% of the labour force," he added.
This sector also plays a role in "reducing the rate of poverty and improving the living conditions of those working in agriculture", al-Mashadani said.
Developing the agricultural sector will have a significant impact on reducing Iraq's foreign payments, which are primarily made on goods and food imports, said economist Saleh al-Hammash.
"Countries aim to halve tariffs on imports and to instead export excess goods in order to cover their needs of certain products," he told Diyaruna.
Al-Hammash called on the government to "pay more attention to the agricultural sector in order to diversify state revenue sources and avoid solely relying on oil, which is seeing a sharp decline in prices in global markets".
He also stressed the need to develop the sector by allocating funds "for land reclamation, provision of state-of-the-art machinery and building dams and food manufacturing plants".