Anbar's local government is implementing an emergency plan to help ease the pressure on displaced families amid the novel coronavirus (COVID-19) lockdown, a local official said Wednesday (April 15th).
Iraq has imposed a nationwide curfew starting from March 22nd to April 19th.
The plan is being implemented in co-operation with the Ministry of Migration, civil society organisations and several institutions such as the Sunni Endowment Office in Anbar, said Mazen Khalid Abu Reesha, an adviser to the governor of Anbar.
"Our efforts are focused on providing food and relief to both displaced residents and those who have returned [to the province]," he said, adding that the local government aims to mitigate the economic effects of the curfew on these residents, many of whom are day labourers.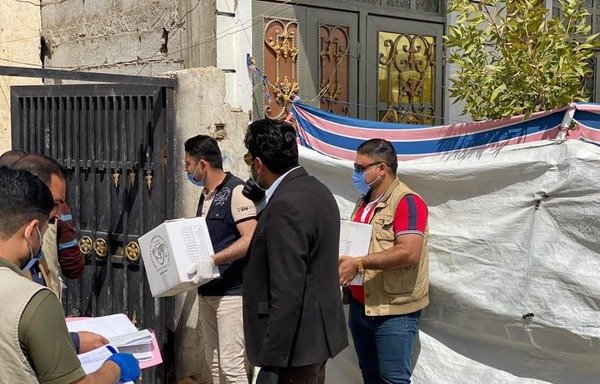 There are two housing centres in Anbar: one in al-Habbaniya's tourist district and the other in the area of Ameriyat al-Fallujah, he said, noting that they host around 1,600 families who are still unable to return to their homes.
"We regularly provide these displaced families with baskets of food and household cleaning materials, in addition to masks and gloves to prevent infection with the coronavirus," Abu Reesha said.
Local relief teams are closely monitoring these families' conditions and working to meet all of their essential needs, he said.
Other teams are spraying the camps with disinfectants and educating people on the importance of abiding by social distancing and all preventive measures against the virus, he added.
Facilitating return of Anbar families
"As for displaced families who have returned to Anbar, we have distributed relief and aid supplies to some 5,000 families in different areas of the province," Abu Reesha said.
"We also have provided them with 15,000 food baskets from the Sunni Endowment," he said.
In parallel to these efforts, the local government is working to secure the return of displaced families to Anbar, he said, as well as those who have recently travelled to other provinces or outside the country and are unable to return due to the lockdown.
Several committees have been set up to facilitate their return, he said.
About 250 displaced families are set to return from Erbil province this week, to be followed by more groups, said Abu Reesha.
Additionally, around 200 families have returned to Anbar in recent days from Jordan, he said.
"They were received through the Trebil border crossing after undergoing medical exams to make sure that none were infected with the coronavirus," he added.