A new plan has been launched to secure oil sites in Basra province on the heels of a Monday (April 6th) rocket attack, an Iraqi police official said Thursday.
Three missiles landed Monday near the site of American oil services company Halliburton in the al-Burjisiya area south of Basra, without causing any casualties.
The attack came in the wake of an increase in the frequency of rocket attacks on international coalition bases and on the Green Zone in the capital Baghdad, which are blamed on armed groups in Iraq.
The attack targeted the offices of a company in charge of securing oil sector employees in Basra, said Brig. Gen. Hashim Jaloub, director of the Basra and South Oil Police.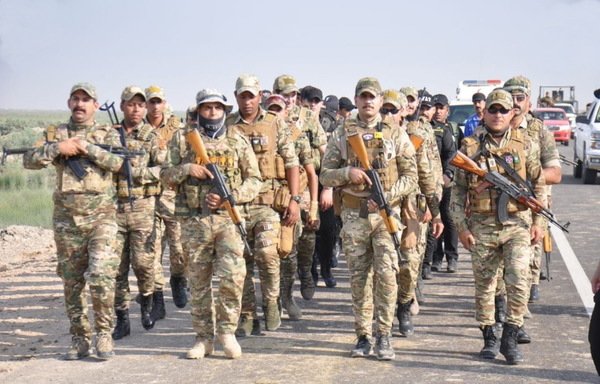 "Three Katyusha rockets launched from a nearby agricultural area landed near the [company's] offices," he told Diyaruna.
Police found the launcher near the al-Zubair al-Shuaiba road, with 11 missiles intended for launch that security forces have dismantled, he said.
This was the "first attack of its kind" in the area, he said, noting that it only caused minor material damage.
Following the incident, the oil police initiated a new security plan to protect oil sites and prevent such attacks from recurring, he added.
Stepped up security measures
"Our plan includes several preventive measures, including stepping up monitoring patrols near oil facilities," Jaloub said.
"Ambushes, checkpoints and secret detachments have been deployed in villages and agricultural areas near oil facilities to collect intelligence on any activity that may threaten the security of the oil sector and the foreign companies in charge of rehabilitating it," he said.
The attack was "an act of sabotage" that threatens the national economy, he added.
The oil police have met with the workers of the targeted site and reassured them that all measures will be taken to ensure their safety, he said, refuting media reports that alleged police officers in charge of securing the site have been detained for failure to perform their duty.
"That news is completely false," he said.
Earlier, the Iraqi Oil Ministry condemned the attack, calling it a "criminal act and a blatant attack on the lives of oil workers".
It reflects "desperate attempts to disrupt oil activity, which is the backbone of our economy", the ministry said in a statement.
It urged the security services "to expedite steps to find the perpetrators and bring them to justice".