A national moment of solidarity was held Tuesday night (April 7th) in Iraq in a show of support for the victims of novel coronavirus (COVID-19), their families and the first responders.
The Iraqi national anthem blasted over loudspeakers throughout the country and was broadcast on all local media at 9 p.m. local time Tuesday, while sirens blared in the background.
The initiative was organised by the Iraqi High Commission for Health and Environment following a meeting headed by caretaker prime minister Adel Abdul Mahdi.
Security personnel saluted from their bases and deployment sites to commemorate all those who have died of the virus or been infected with it around the world.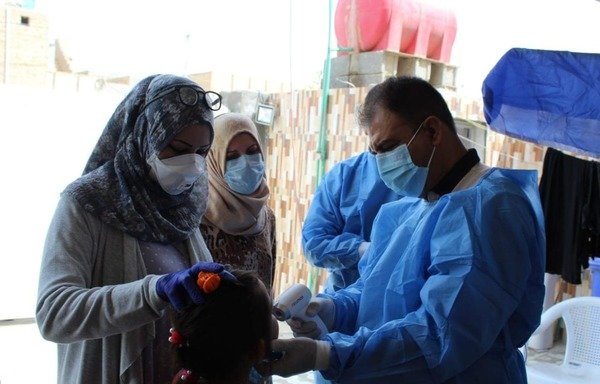 Iraqi citizens applauded from the rooftops and balconies after singing the national anthem, waving Iraqi flags to express their appreciation of the efforts of the health and security personnel fighting to prevent the spread of the virus.
Minarets also sounded "God is Great" calls and prayers for recovery for the sick and an end to the virus.
This comes as Iraq announced Tuesday 91 new cases of infection and one fatality, bringing the total to 1,122 cases and 65 deaths.
The pandemic challenge is "enormous" and "no health system, no matter how advanced, has the capacity to confront it", Iraqi Health Ministry Undersecretary Jassim al-Falahi told Diyaruna on Wednesday.
"That's why, with our preventive measures, we seek to keep the situation under control," he said.
Preventive measures proven effective
"We were one of the first countries to initiate a prevention plan when the virus broke out, and our measures to contain it have been decisive and unprecedented," al-Falahi said.
"We closed the borders, stopped all flights, quarantined and checked all Iraqi travelers returning from abroad, and implemented strict controls by imposing a curfew and preventing gatherings to reduce infection," he said.
In conjunction with these procedures, "our medical and nursing staff have mobilised their efforts to receive all suspected cases of infection and conduct the necessary tests, as well as organise mobile campaigns to examine and educate citizens in their homes", he said.
All confirmed infected patients are receiving intensive medical care, he said. "As for respiratory and pulmonary equipment and testing laboratories, our ministry is making every effort to secure the need for these devices and medical supplies."
"Many of the needs required to combat the pandemic and to protect our personnel from the risk of infection have been covered," he said.
Al-Falahi expressed his appreciation for Tuesday's show of solidarity from Iraqis, saying that "doctors and paramedics in Iraq and the world are today the first line of defence against the virus and their efforts go hand in hand with that of the security personnel and volunteer teams".
"We also thank the citizens for complying with the lockdown measures and for adhering to the recommendations and preventive guidance," he added.