Iraq's Al-Rafidain Bank recently reopened its branch in western Anbar's Anah district, which was badly damaged during the battles to oust the "Islamic State of Iraq and Syria" (ISIS) and remained closed for more than two years.
District residents welcomed the reopening of the local branch, as this means they can once again conduct banking transactions without leaving the area.
Anah resident Wissam Saleh told Diyaruna that while the bank's Anah branch was closed, he had to travel to Baghdad each time he wanted to deposit or withdraw money.
This was an exhausting process, he said, for himself and for many others.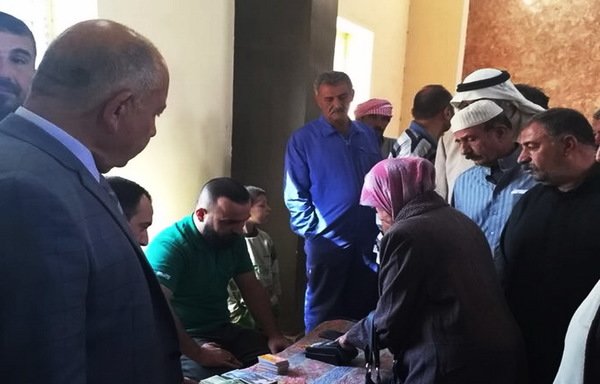 "We had been awaiting this step to make our lives easier," he said.
Banking services restored
The resumption of banking services has been a priority for Anah's local council, council chairman Abdul Karim al-Ani said, especially as the families displaced by ISIS return to their homes in the district and general conditions improve.
In the case of Al-Rafidain Bank, he said, a new building was chosen.
The federal and local government have been working together to reopen bank branches and ensure they are in compliance with banking regulations, he said.
The aim is to ensure there is enough money in circulation and to make sure people can access banking services on a daily basis, al-Ani said.
Before the local Al-Rafidain Bank branch was reopened, it was inspected by Ministry of Finance personnel, he said, adding that the bank is now secured by a joint army and police force.
He described the reopening of the bank "a significant accomplishment for the local population and the district in general".
"It is the only bank in the district," he said, noting that before ISIS overran the province in 2014, the branch offered banking services to local residents and public and private institutions.
"With this step, we hope that the local population would not have to frequent banks outside the district and normal transactions can run seamlessly," he said.
There is a need for more banks in the district, he added, as one bank is not enough to meet the needs of the entire local population of roughly 30,000.
Restoring infrastructure
The district has been battling to improve public services, as its infrastructure suffered significant damage during the fighting, al-Ani said.
Many schools and public service facilities were quickly rehabilitated, he noted, and drinking water services have been restored in the centre of Anah and the towns of al-Sagra and al-Rihana.
Several public agencies, including the General Directorate for Passports, have been reopened.
Al-Ani said local rehabilitation efforts are being supported by Iraqi agencies such as the national fund for reconstruction of areas affected by terrorist operations, as well as international organisations.
According to former Anbar provincial council member Eid Ammash, reopening any public sector agency or services facility is beneficial for the population.
"The reopening of Al-Rafidain Bank is a huge win that will make people's lives easier," he told Diyaruna.
"It is known that our province has a large land mass, and movement from one district to another or travelling to the nearest province to conduct routine administrative tasks is a difficult undertaking," he said.
Reviving local economy
Ammash pointed out that restored banking services will make it easier and less burdensome to pay salaries and pensions, and for individuals and public and private companies to make deposits and obtain loans.
Banking is an indispensable economic activity, economist Saleh al-Hammash told Diyaruna, noting that the resumption of the banking sector is significant in terms of boosting local economies in areas recovering from ISIS rule.
The banks play a key role in restoring the local economy by lending to revenue-generating small- and medium-sized businesses, which are needed now in order to curb unemployment and improve the economic outlook, he said.
Al-Hammash said banks also impact the agriculture, industry and trade sectors, and provide operating capital and financial facilities for companies as well as public and private agencies.
These services "contribute towards reconstruction and sustainable development campaigns", he said.