One year ago this month, the "Islamic State of Iraq and Syria" (ISIS) was expelled from its last Syrian stronghold in the Deir Ezzor village of al-Baghouz, putting a definitive end to its self-declared "caliphate" in Iraq and Syria.
Since the collapse of the ISIS proto-state, the international coalition has intensified its efforts on training and on raising the preparedness of the Iraqi army and the Syrian Democratic Forces (SDF) to confront the group's remnants.
Working as part of France's Opération Chammal, the Monsabert task force has been developing the combat skills and improving the training facilities of the Iraqi army's 6th Infantry Division, artillery unit and bomb squad.
The 100-member unit operating in Baghdad, comprised of advisers and trainers, has been advising Iraqi soldiers and equipping them with military and technical skills, as well as developing the infrastructure of the training site.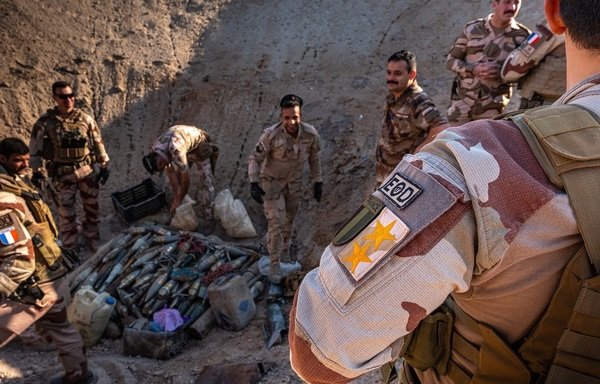 Visiting the Monsabert team's base in Baghdad on February 29th, Operation Inherent Resolve commander Lt. Gen. Robert "Pat" White praised the task force's work to build the capacity of the Iraqi forces to confront the ISIS threat.
"The French team that is providing training and advisory support has had a clear impact on the enhanced capabilities of our forces and their effective response to any challenge," strategy expert Ahmed al-Sharifi told Diyaruna.
"The efforts of this team and its direct contact with soldiers has had a significant impact on helping them learn complex and core skills such as combat in rugged terrain and densely populated areas," he said.
The Monsabert task force organised several intensive training sessions to further develop the skills of Iraqi soldiers, including combat tactics in urban areas and instruction on firing at stationary and moving targets.
A two-month training session held at the end of 2019 at firing ranges in southern Baghdad saw 4,500 soldiers from the 6th Infantry Division learning the basics of shooting and precision targeting.
Training support is "an integral part of significant French efforts" that began with the launch of Opération Chammal in September 2014 as part of Operation Inherent Resolve, al-Sharifi said.
Air, artillery, intelligence support
"French Rafale fighter aircraft played a remarkable role in securing our military divisions during liberation battles and dealing successive strikes against enemy strongholds," al-Sharifi said.
"French artillery also supported our forces in protecting the border strip with Syria and provided support for the battle to liberate al-Baghouz," he said.
"There is strong collaboration between us and the French in the area of intelligence exchange, and this is a fundamental tool in fighting terrorist groups and thwarting their attacks," he added.
"The programme provided by the French delegation included high quality training courses that can be described as complementary to each other," security analyst Najim al-Qassab told Diyaruna.
These included training to improve soldiers' endurance and their ability to manoeuvre and shoot, in addition to preparing plans and lending expertise in the field of first aid, data science, communications and computer skills, he said.
Other areas of support included training on how to safely dismantle and dispose of land mines and improvised explosive devices (IEDs), as well as ambush response training, he said.
'Strong, long-term relationship'
Monsabert task force engineers contributed towards the reinforcement of military training facilities, completing construction of a training field for the Iraqi army's 6th Division on December 17th, al-Qassab said.
"We are interested in building a strong and long-term relationship with France," he said. "As a result of our partnership, we have achieved important wins and hope to advance and develop our relationship."
"French experts have positively contributed towards building capacity for our army," Iraqi security expert Haitham al-Khazaali told Diyaruna.
"We encourage the signing of agreements and memoranda of understanding with France to take advantage of their long-standing expertise across a range of military capabilities," he said.
"We need training and support, particularly when it comes to addressing terrorist remnants such as landmines and ordnance that still pose a serious threat to the lives of the Iraqi people," he said.