One year ago Monday (March 23rd), the Syrian Democratic Forces (SDF), backed by the international coalition, ousted the "Islamic State of Iraq and Syria" (ISIS) from its last Syria stronghold, the Deir Ezzor village of al-Baghouz.
Ahead of this anniversary, coalition spokesman Col. Miles Caggins and SDF spokesman Mustafa Bali held a joint press conference in al-Hasakeh province's Rmelan on March 6th, describing ongoing efforts to eradicate ISIS sleeper cells.
The relationship between international coalition forces and the local population has been constructive and positive, local activist Ammar Saleh told Diyaruna.
In addition to working with the SDF to target ISIS remnants and sleeper cells in north-eastern Syria, he said, the international coalition has been supportive of the local community and recently extended business opportunities to them.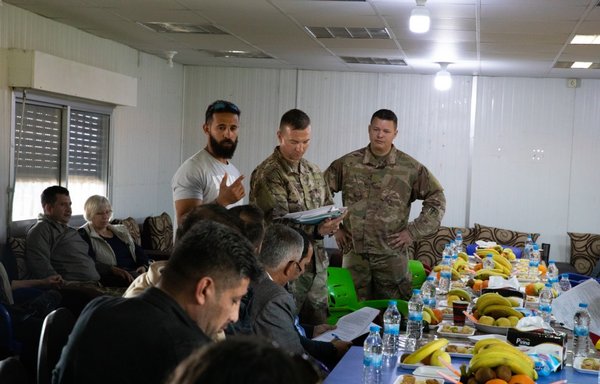 Local business leaders have been invited to go through a process to be registered for contracts to support the bases housing coalition troops, Caggins said at the March 6th briefing.
Before they can do business with the coalition, businesses must be registered and certified, he said.
"This means that the entrepreneurs, the business owners, must be willing to go through a security background check, and we have to be sure that the money is going directly to the business," he said.
This is to ensure money is not going to the Syrian regime, which is being sanctioned, or any extremist groups, Caggins explained.
Contracts under bidding include those to supply gravel, heavy equipment and general construction.
Caggins described this as the "first step... of what we think we will see as a successful partnership to stimulate, to boost the local economy", noting that the businesses being evaluated are run by "men and women, Kurds and Arabs".
"Some people will likely get good jobs, or have another place to sell their goods," he said, noting that a strong local economy will help keep ISIS at bay.
Most of al-Hasakeh did not have active ISIS fighters "because the community would not allow it", he said, "and we think a strong economy, economic stimulation is important for that".
'Positive' relations with local population
Saleh described the coalition's recent meetings and ongoing communication with local business leaders as "a very positive step in every aspect".
Awarding contracts to local businesses "would revitalise the region and create job opportunities", as well as fortify the region against terrorism and Iran's Islamic Revolutionary Guard Corps (IRGC), he told Diyaruna.
US forces operating as part of the international coalition have been tasked with protecting the region's oil infrastructure.
"ISIS used to make more than $5 million a year from the oilfields," Caggins said, adding that "we are not going to allow that to happen again".
Saleh noted that in addition to ISIS, the coalition's presence in the region will keep others, including the IRGC and the Syrian regime, from exploiting the region's oil wealth.
Projects may extend into the areas of agriculture, health, energy and education, he noted, with the ultimate goal being the creation of a stable social environment that is able to sustain its stance of rejecting terrorism.
To date, he said, 13 companies of various specialisations and types of activity have met with the international coalition to discuss work contracts.
The emphasis during the process has been on ensuring the money paid out will be go to the agreed-upon work, he said, and that it will stay in the region and not be transferred to other parties such as ISIS or the regime.