The US on Tuesday (March 17th) placed the new leader of the "Islamic State of Iraq and Syria" (ISIS) on its blacklist of terrorists, naming him as Amir Mohammed Abdul Rahman al-Mawla.
Secretary of State Mike Pompeo said al-Mawla was named leader of the ultra-violent group after an October raid by US commandos killed its chief Abu Bakr al-Baghdadi.
The group had earlier named Abu Ibrahim al-Hashimi al-Qurashi as its new head, but US officials acknowledged they knew little about him -- and later came to believe that ISIS was using his nom de guerre.
Al-Mawla "was previously active in al-Qaeda in Iraq and is known for torturing innocent Yazidi religious minorities", Pompeo said.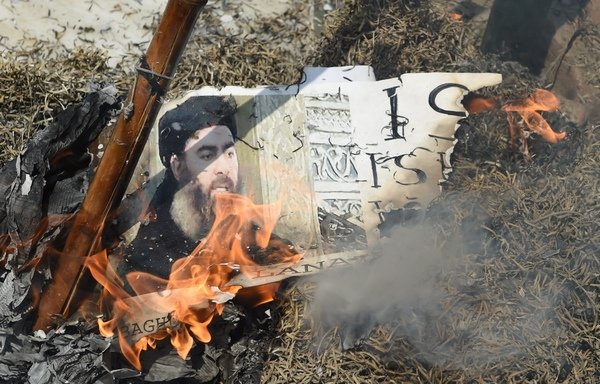 "We have destroyed the caliphate and we remain committed to ISIS's enduring defeat no matter who they designate as their leader," he said.
"Today's announcement is part of a larger comprehensive effort to defeat ISIS that, in co-ordination with the Global Coalition to Defeat ISIS, has made significant progress," a State Department statement said.
"We have completely destroyed ISIS's so-called 'caliphate' in Iraq and Syria, and we are taking the fight to its branches and networks around the world."
"This whole-of-government effort is destroying ISIS in its safe havens, denying its ability to recruit foreign terrorist fighters, stifling its financial resources, countering the false propaganda it disseminates over the internet and social media, and helping to stabilise liberated areas in Iraq and Syria so the displaced can return to their homes and begin to rebuild their lives," it said.
Al-Mawla was named a specially designated global terrorist, putting him on a list that makes any support to him a crime in the US. The State Department has already issued a $5 million bounty for information leading to al-Mawla's capture.
Crimes against Yazidis
Al-Mawla rose through the ranks of ISIS by issuing fatwas to justify the persecution of the Yazidis, a campaign the UN has described as genocide.
According to the State Department, "al-Mawla helped drive and attempt to justify the abduction, slaughter and trafficking of Yazidi religious minorities in north-west Iraq and oversees the group's global operations".
ISIS killed thousands of Yazidis and abducted and enslaved thousands more women and girls as its fighters rampaged across the Middle East.
In a January article that cited intelligence sources, the Guardian reported that al-Mawla had been raised in an Iraqi Turkmen family -- making him one of the few non-Arabs to rise through the ranks of the group.
The newspaper said intelligence officials were unsure of his whereabouts but believe he likely followed al-Baghdadi to Idlib, the last Syrian opposition enclave, which is largely controlled by Tahrir al-Sham.
The Counter Extremist Project, which tracks militants, said al-Mawla served in the Iraqi military under Saddam Hussein before joining al-Qaeda in Iraq, becoming a jurist for the group.
It said that US forces captured al-Mawla and jailed him in southern Iraq, where he formed his bond with al-Baghdadi, who was also jailed as part of al-Qaeda.