Iraqi federal police forces have cleared the al-Hawijah district of western Kirkuk province of improvised explosive devices (IEDs) and other explosives planted by the "Islamic State of Iraq and Syria" (ISIS).
A minefield was found in the area containing 104 locally made IEDs, the police said in a statement Monday (March 9th).
The discovery of the minefield followed a "pre-emptive operation by the Federal Police's 3rd Division based on accurate intelligence", Federal Police Commander Lt. Gen. Jafar al-Batat said.
The explosives treatment unit detonated all the devices in a controlled manner on-site, he said.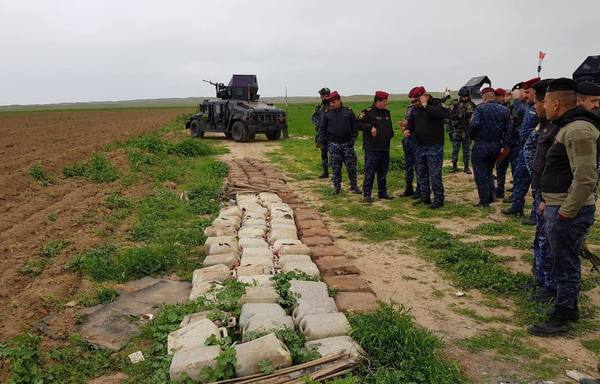 Meanwhile, the Federal Police's 5th Division seized Tuesday 250 kilogrammes of high-impact C-4 explosives during a search in the village of Nuweishin and Wadi al-Karha in al-Hawijah's al-Rashad sub-district.
It also defused six IEDs and a plastic jerrycan filled with C-4 during its search of Wadi Hashisha in al-Rashad.
'Exceptional effort'
The police and army forces are exerting an "exceptional effort" to clear al-Hawijah and other liberated towns of ISIS remnants of war, security expert Mohammed al-Rubaie told Diyaruna.
"While in control of swathes of Iraq, ISIS elements planted a large number of mines and IEDs to fortify their bases and impede the liberating forces' advance," he said.
"Many of the IEDs were planted in a way that would be difficult to discover or remove and defuse, which poses a challenge to the de-mining and engineering teams and other supporting specialised bodies," he added.
"Despite all the challenges, the security forces have achieved important successes in clearing liberated areas of the terrorists' remnants of war," al-Rubaie said.
The Federal Police in its area of responsibility in western Kirkuk has removed "thousands of mines, IEDs and unexploded ordnance" planted in over 200 villages in al-Rashad, al-Abbasi and al-Riyadh, in addition to the area around al-Hawijah district centre, he said.
It is important to continue with these efforts to "deprive the enemy remnants of sources of threat and fight the danger from explosives to the lives of civilians", he added.