Syria's north-western Idlib region woke up to relative calm Friday (March 6th), its skies free of warplanes for the first day in months, following a Russian-Turkish ceasefire deal.
The Syrian Observatory for Human Rights and AFP correspondents in Idlib province said the truce that came into force at midnight appeared to be holding.
Observatory chief Rami Abdel Rahman reported "a complete absence of regime and Russian warplanes in the Idlib airspace".
He said an exchange of fire before dawn killed six regime fighters and nine members of the Turkistan Islamic Party, a Uighur-dominated extremist group, but in general belligerents seemed to be observing the ceasefire.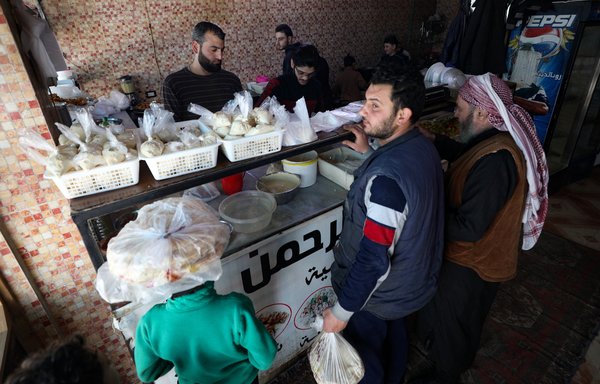 Russian President Vladimir Putin and his Turkish counterpart Recep Tayyip Erdogan reached a deal after hours of talks in Moscow on Thursday.
The agreement will create a security corridor along the key M4 highway in northern Syria, where Turkish and Russian forces will launch joint patrols later this month.
Turkish buffer zone hopes
The joint Russian-Turkish patrols will operate between the village of Tronba in Idlib and a village in Latakia province, a regime stronghold.
The M4 highway runs roughly parallel to Syria's northern border with Turkey, from north-eastern Kurdish-controlled regions to the Mediterranean coast.
The segment affected by the deal reached in Moscow lies mostly in Idlib province and marks the rough border of a buffer zone Turkey would like to create inside Syria.
Damascus has always insisted it wants to reclaim all the land it lost to opposition forces in the early days of the war, a position backed by Moscow.
Turkey however wants to maintain its influence in northern Syria by deploying its forces and proxies in a buffer zone about 30 kilometres deep along the entire border.
The patrols decided on Thursday in Moscow -- the first time Russian and Turkish forces will operate jointly in Idlib -- are due to start on March 15th.
On that day, the conflict that has killed close to 400,000 people and displaced half of the population of Syria will enter its 10th year.
EU countries welcome ceasefire
EU countries on Friday gave a cautious welcome to the ceasefire, but urged the warring parties to allow in more humanitarian aid.
Foreign ministers from the 27 EU states are meeting for talks in Zagreb on the crisis in Idlib province.
"For sure I am pleased for the ceasefire, the ceasefire is good news. At least it is goodwill -- let us see how it works," EU Minister for Foreign Affairs Josep Borrell said as he arrived for talks.
Some EU countries, notably the Netherlands, have called for a no-fly zone over Idlib to stop the regime bombing civilian targets.
"EU countries are willing to provide humanitarian aid to Idlib. The challenge is to get aid into the area and that is where the ceasefire might help. A no-fly zone might help even more," Dutch Foreign Minister Stef Blok said.
But residents of the conflict-torn region had low expectations.
Ahmad Qaddour, 29, who lives in a displacement camp with his wife and two children, said he had learned to always expect the worst.
"We do not have any confidence in the regime and Russia regarding this ceasefire," he said.