The Iraqi government's plan to open a camp in the western Ninawa town of Zumar for displaced Iraqis who are currently residing in al-Hol camp in Syria's al-Hasakeh province has provoked a range of reactions.
Some local residents have expressed alarm that the families of former "Islamic State of Iraq and Syria" (ISIS) fighters will be transferred to the new camp, which according to local media reports is halfway through completion.
As part of the same scheme, an office is being constructed in the Ninawa border town of Rabia, where security checks will be conducted on the displaced Iraqis, who will be admitted back into the country in batches.
The Ninawa Directorate of Migration "has not been officially informed of the transfer of any family to Ninawa from al-Hol camp", associate director of migration in Ninawa Azim Hazim Dawood told Diyaruna last week.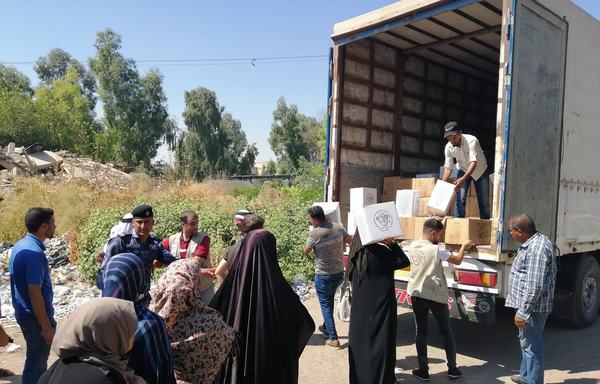 "There are plans and proposals in place, and parallel to that there is a general feeling of fear on the part of the local population," he said, stressing that any new camp "will most certainly be under the supervision of the security forces".
There appear to be plans "to accommodate at least 4,000 families from al-Hol", he said, noting that an estimated 30,000 Iraqis reside in the overcrowded desert camp in al-Hasakeh.
The Iraqi government has said it does not want to repatriate the families of ISIS fighters from al-Hol, but rather Iraqi civilians who were forced to flee to Syria out of fear when ISIS overran swathes of northern Iraq in 2014.
Handovers are not indiscriminate, the government has emphasised, but are subject to strict controls in which the security files of all displaced persons are inspected in order to determine whether they were involved in acts of terrorism.
'Legitimate fears'
In recent years, the Iraqi government has successfully repatriated hundreds of Iraqi families who had been living in al-Hol camp.
But these steps have not reassured residents of Ninawa province, where dozens of protestors recently took to the streets to call for the government to reconsider its decision to allow displaced populations to return from al-Hol.
Iraqi MPs representing Ninawa have echoed the protestors' demands.
Ninawa residents have legitimate fears, Ninawa provincial council displaced persons committee chairman Ayed al-Luwayzi told Diyaruna.
The destruction and mass killings perpetrated by ISIS are still fresh in their memories, he said, noting that residents do not want to jeopardise the current state of stability and security where they live.
At the same time, al-Luwayzi said, it is important that Iraqi families residing in al-Hol camp are not left in the lurch, facing an unknown future.
These families must not be neglected or ignored, he said.
Government responsibility
Women and children living in camps such as al-Hol are isolated and face harsh conditions that can easily make them vulnerable to radicalisation, military expert Jaleel Khalaf al-Shuwayli told Diyaruna.
The government has a responsibility to improve the conditions of the displaced population and give them the chance to return home and rebuild their lives, he said.
"The displaced population and ISIS families in al-Hol should not be neglected, and if there is a desire to bring them back, there have to be special programmes to free their minds of foreign ideas planted by the terrorists," he said.
Refuting this deviant ideology and reinforcing a sense of belonging are of utmost importance in order to ensure that future generations are not consumed with extremism, revenge and hatred towards those around them, he said.
If the government neglects to pay attention to the displaced population in the Syria camps, he said, this will be at its own peril, as these people may have the potential and ability to threaten Iraq from across the border within a few years.
To address this ticking time-bomb, he added, "we need in-depth research of the issue, and the support and capabilities of international partners in the area of mental and behavioural rehabilitation".