The return of security to Ninawa province after the defeat of the "Islamic State of Iraq and Syria" (ISIS) is spurring the return of agricultural productivity, thanks to government assistance initiatives for farmers.
Over the past year, Ninawa has ranked number one nationwide in the production of strategic agricultural crops, according to Duraid Hikmat, director of Ninawa's Agriculture Department.
"We managed to sell a million tonnes of wheat and close to 700,000 tonnes of barley," he told Diyaruna. "This has allowed our province to take first place on a national level in producing these two crops in addition to outstanding production of yellow corn, reaching 87,000 tonnes."
"The level of destruction that the terrorists have caused in the agricultural sector has faded thanks to the ongoing government efforts to rehabilitate agricultural land and damaged agricultural projects," he said.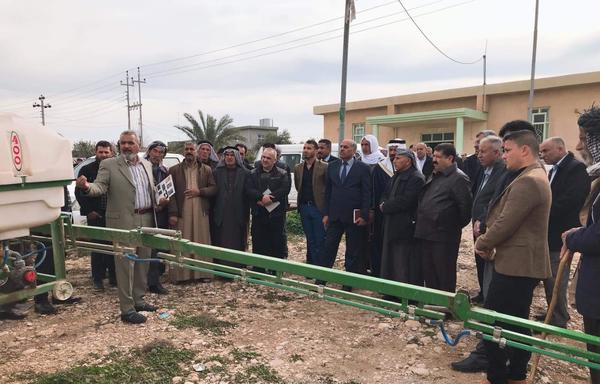 "Following the end of the terrorism era, the Ministry of Agriculture encouraged farmers to resume farming their land by providing seeds and fertilisers at subsidised prices, as well as pesticides free of charge," he said.
"The ministry also has provided harvesters, water sprinklers and various other agricultural supplies through installments that can be paid back in up to 10 years, in addition to buying crops form the farmers at competitive prices," Hikmat said.
Overcoming challenges
While there is "an uptick in agricultural activity", serious challenges remain, Hikmat said.
Some of the challenges include "landmines planted by ISIS across a landmass of one million acres of fertile soil in the province, which prevents cultivation of the land", he said.
In this regard, the relevant authorities are continuing to de-mine these areas and clear them of explosives.
Another challenge is that some farmers are unable to return to their land in certain villages of Ninawa, especially in Hatra and Makhmour, due to security concerns, he said.
"However, we are constantly trying to alleviate the concerns of the local population and underscore the stability that has been achieved there," he said.
Hikmat called for supporting projects related to raising poultry, livestock, fish and honey production apiaries by providing low interest loans to help more farmers restart their businesses.
Post-ISIS agricultural development
Progress is being made in the agricultural sector in other areas of Iraq as well.
The improved security situation as a result of intensive military operations against ISIS remnants has prompted more displaced farmers to return to their villages in Kirkuk, Anbar and Salaheddine provinces and resume farming.
In Diyala province, more than 8,000 farmers have returned to cultivate their land over the past two years.
"Efforts to rehabilitate the agricultural sector in the provinces that suffered from terrorism are taking place at a positive and accelerated pace," Ministry of Agriculture spokesman Hameed al-Nayef told Diyaruna.
"After liberation, we implemented ambitious plans to develop the sector by providing support and guidance to farmers and helping them reclaim their land in addition to rehabilitating infrastructure and the affected agricultural and livestock projects," he said.
Al-Nayef confirmed that the ministry is continuing with its plans, which he stressed have achieved "self-sufficiency for the production of wheat and barley".
"We have achieved self-sufficiency in 10 crops and agricultural products and started to export them, including eggplant, pomegranates, dates and a variety of animal hides," he said.
"We also have banned the import of eggs, poultry and fish as we have abundant local produce and we can now protect national production from competition," he added.
New agricultural policy needed
"Over the past year, Iraq has managed to cultivate 13 million acres and this has increased to 16 million acres this year as a result of resumption of agricultural activity in liberated areas coupled with abundant rainfall," said agricultural expert Adel al-Mukhtar.
"Despite the recovery in production, there still are challenges facing the agricultural sector including the inability to completely curb smuggling of agricultural and food products into the country, which affects our national production," he told Diyaruna.
He urged for the adoption of a new agricultural policy that takes into account the development of the livestock industry, in addition to addressing water wastage and water management following modern irrigation methods.