Iraqi forces on Monday (March 2nd) launched "the largest military operations" against militants of the "Islamic State of Iraq and Syria" (ISIS) in the western part of the country since their defeat in late 2017.
These operations, dubbed "The Sharp Sword", aim to hit ISIS remnants hiding in the western al-Jazeera area, located between the provinces of Anbar, Salaheddine and Ninawa.
Iraqi army brigades from the Salaheddine and Ninawa operations commands, and units from the emergency police, SWAT, tactical regiment, popular and tribal mobilisation forces, air force, and military and field engineering are taking part in the operations.
"These operations are the largest and broadest since victory over ISIS was declared in late 2017, in terms of the area that will be cleared and the participating forces," the Security Media Cell said in a statement.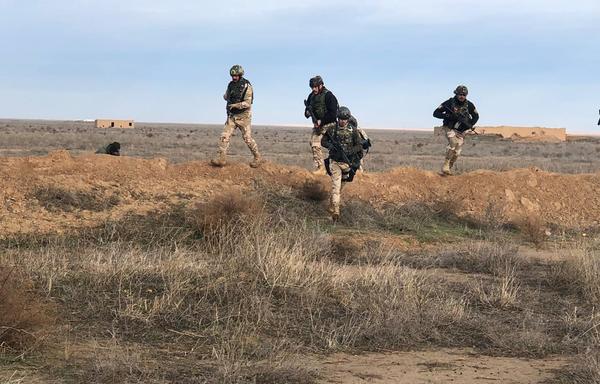 The Salaheddine Operations Command said Monday its forces have found weapons, explosive materials, two motorcycles, and medical and logistical supplies that belonged to the militants.
The new operations "will focus on a very vast desert area that extends from west of Wadi al-Tharthar to the Iraqi-Syrian border and Wadi Houran," military expert Jalil Khalaf told Diyaruna.
They are likely to have multiple phases, similar to the Will of Victory operations, whose eighth phase was concluded at the end of December and which have cleared an area of ​​32,000 square kilometres of western al-Jazeera, he said.
International support enhances Iraq's capabilities
The main purpose of the operations is to "discover and destroy secret gatherings of terrorists and cut off their transportation and supply routes", Khalaf said.
They will focus on areas extending from the border with Syria to remote areas with lax security, such as the hills of Hamreen, Makhoul and Makhmour, he said.
"According to the available information, small ISIS groups are still hiding in western al-Jazeera and planning to establish a foothold there and rebuild themselves," Khalaf said.
ISIS elements in recent weeks have been seeking to "take advantage of the security forces' preoccupation with securing the ongoing demonstrations in the country in order to expand and prepare", he noted.
"However, the resumption of strong military pressure will not give the terrorists the opportunity to settle down, hold territory and step up their attacks against civilian and military targets," he added.
"Our forces are making progress and are in a better position than before, as they possess expertise and skills, in addition to good armament and advanced surveillance equipment and cameras," he said.
Additionally, the resumption of support provided by the international coalition to the Iraqi forces, particularly air support, "enhances our efforts towards denying the enemy any opportunity to attack or regroup", he said.