As the Iranian regime grapples with sanctions that have crippled its economy, it has sought to relieve the pressure on its coffers by establishing and profiting from a parallel power structure in Iraq, analysts told Diyaruna.
Central to this scheme are the Iraqi militias that receive direct funding from Iran's Islamic Revolutionary Guards Corps (IRGC) and are therefore beholden to it, they said.
"Iran's agents are active in building a deep or 'parallel' state, whose main function is to systematically steal the resources of Iraqis and undermine their capabilities," political analyst Ahmed Shawqi told Diyaruna.
"The money that these agents make from their illegal dealings goes to the coffers of the IRGC so it can continue to impose its hegemony and carry out its activities that are harmful to the stability of the region," he said.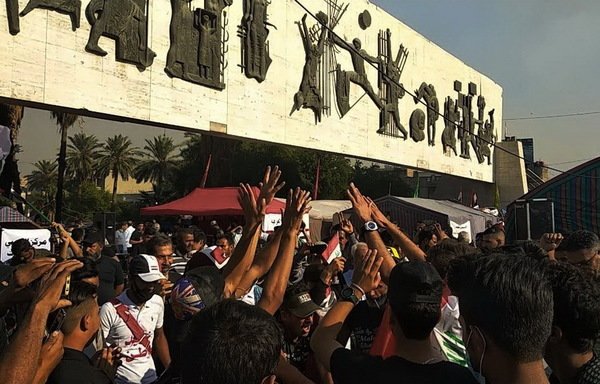 Smuggling oil, drugs and other items into and out of Iraq is a main source of revenue for the Iran-backed militias, Shawqi said, noting that the militias have been able to generate huge profits from this illicit activity.
According to some estimates, he said, these militias have siphoned nearly 23,000 barrels of oil a day from oilfields in northern Iraq, and have been smuggling the oil into Iran via tanker trucks.
Smuggling has cost Iraq an estimated $2 billion in oil revenues since 2017.
Range of illicit activities
"The militias are resorting to a variety of methods to collect hard currency and funnelling it to Iran," Shawqi said, noting that "they are using their influence to issue fake import invoices or purchase large amounts of dollars".
This weakens the Iraqi dinar by syphoning dollars from the Iraqi economy, he said.
Iran-backed militias also have been implicated in corruption related to public service project contracts, as well as money laundering operations run through "commercial offices" and secret networks, he said.
Revenues from these activities "are used to support the IRGC activities in Syria, Lebanon and Yemen", he noted.
The militias also have commandeered the scrap metal market, melting down old cars and metal debris from buildings damaged during the war on the "Islamic State of Iraq and Syria" (ISIS) and reselling it as raw material in Iraq, he said.
"Militias are shipping loads of scrap metal from Iraq to Iran, where Iranian steel factories remanufacture and resell it to Iraq," strategy expert Alaa al-Nashou told Diyaruna.
"The militias are depleting Iraq's economy and national resources via several ways and means, as they seek to make money to support the IRGC and allow the Iranian regime to weather the economic sanctions," al-Nashou said.
At land crossings and seaport docks, militias impose illegal tariffs on goods entering Iraq, he said, in addition to blackmailing businessmen and importers and taking kickbacks in order to allow their shipments to reach warehouses.
"This theft has impoverished Iraqis," he said, pointing out that "in spite of its significant state budget, Iraq suffers from poor public services".
Depleting Iraqi economy
"The militias have brought nothing but destruction to Iraq and are still depleting the economy through corruption in order to prevent the Iranian regime, its militias and allies from collapsing," said former Iraqi MP Omar Abdul Sattar.
Protests have been roiling Iraq since the beginning of October "to demand an end to the control of Iran-backed militias" and an end to their repression, looting of the Iraqi economy and other crimes against the Iraqi people, he said.
But now "the world has woken up to the danger of these militias and the support they provide to the IRGC in order to help it withstand the pressure of the imposed economic sanctions", he said.
"International efforts are now focused on disrupting the financial systems of the groups who pledge loyalty to Iran," Abdul Sattar said.