Dozens of wanted men have been arrested during security operations to track down remnants of the "Islamic State of Iraq and Syria (ISIS) in southern Salaheddine province, the Samarra Operations Command said.
Over the last two weeks, the command's forces have carried out "special security operations", Maj. Gen. Imad al-Zuhairi told Diyaruna Tuesday (February 25th).
These operations covered "various areas of the Samarra Operations Command's area of responsibility in southern Salaheddine province, which stretches over​​13,000 square kilometres and four administrative districts", he said.
They included setting up ambushes and surprise checkpoints, raiding specific sites and hideouts and carrying out comb and search operations, especially in areas on the administrative borders with the provinces of Diyala and Anbar, according to al-Zuhairi.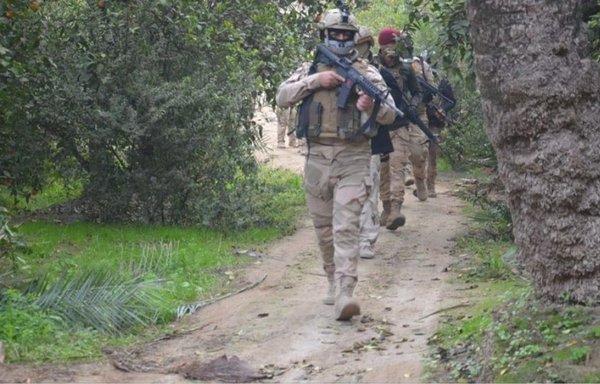 113 wanted persons arrested
"These activities enabled us to arrest 113 wanted persons accused of terrorist crimes, criminal offenses and violation of the law," al-Zuhairi said.
Iraqi forces also have seized and blown up large quantities of ammunition left behind by ISIS, in addition to destroying rest-houses that contained food and logistical materials, he added.
"Terrorist groups are trying to exploit any state of turmoil in the country to resume their hostile activity," he said. "An atmosphere of political and regional instability serves as a lifeline for them."
"However, we are watching these groups and are always thwarting their plans and striking them with an iron fist to keep them in a state of fragmentation," he said.
On Sunday, an attack in the town of al-Ishaqi in the Balad district of Salaheddine left one person dead and another injured.
The attack is most probably of a criminal nature and not a terrorist act, said al-Zuhairi.
"Two gunmen, one carrying a rifle and the other a cold weapon, attacked a popular cafeteria in al-Ishaqi on Sunday evening," he said.
"The operation is still being investigated and our efforts to arrest the perpetrators and hand them over to the court continues," he said.
Al-Zuhairi denied reports of another attack on a popular sports field in Balad district, saying "this is fake news".