An investigation was launched at the site of a mass grave near the town of Tal Afar, west of the city of Mosul, believed to hold a large number of "Islamic State of Iraq and Syria" (ISIS) victims, an Iraqi official said Friday (February 21st).
"The gravesite is a huge natural pit located five kilometres north-west of Tal Afar in the direction of the road that links the town to the area of al-Ayadiya," Tal Afar mayor Qassim Mohammed Sharif told Diyaruna.
"Locals have named the pit the 'Alou Antar Well', but its official name is 'Al-Hammam Well'," he said.
"Eyewitnesses have confirmed that during ISIS's occupation of Ninawa province, its fighters used to come to the site on a daily basis with either the bodies of their victims or civilians they would execute in the field and throw down the pit," he said.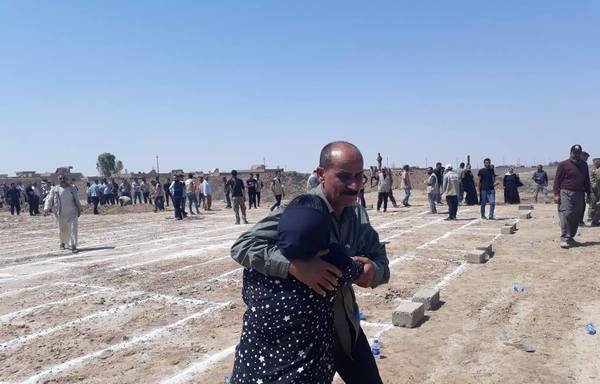 "ISIS then buried the victims by throwing rubble on top of them with a tractor shovel or by detonating parts of the pit," he added.
More than 1,000 victims
According to witness reports, there may have been more than 1,000 victims, not only residents of Tal Afar, but most likely civilians from Mosul and other towns in Ninawa that opposed the terrorist group's ideology, Sharif said.
The pit may also include the bodies of citizens who were former members of the security forces and election commission officials, he said, noting that the victims come from all ethnic and religious backgrounds and include women and children.
The area the grave is located in was cordoned off because of the high level of mine contamination on the Tal Afar-al-Ayadiya road and in various other spots around the area, he said.
"The company in charge of removing the mines -- MAG -- recently informed us that it has completely cleared the area of explosives," he added.
The Civil Defence Directorate in Tal Afar started investigating the gravesite on Thursday, in collaboration with the local administration, government agencies and UN representatives, he said.
An initial survey of the site is compatible with witness accounts, and some remains were visible on the surface, Sharif noted.
"This grave is another living witness to the terrible crimes committed by the terrorists," he said.
It is the second grave in the form of a pit in the ground that ISIS militants used as a place for killing and burying their victims.
The other grave, known locally as al-Khasfa, in the area of Hammam al-Alil south of Mosul, is one of the most notorious mass graves uncovered to date, with unofficial estimates indicating it contains the remains of 25,000 bodies.