Turkish President Recep Tayyip Erdogan on Friday (February 21st) called for "concrete action" to prevent a crisis in Syria's last opposition stronghold in a phone call with his French and German counterparts.
A humanitarian crisis has unfolded in the north-western province of Idlib as the Syrian regime, backed by Russian airstrikes, presses on with an offensive that has forced nearly one million civilians to flee their homes.
In a phone call with German Chancellor Angela Merkel and French President Emmanuel Macron, Erdogan "stressed the need to stop the aggression of the regime and its supporters in Idlib", the presidency said.
Erdogan also stressed the need to provide "strong support through concrete actions to prevent a humanitarian crisis".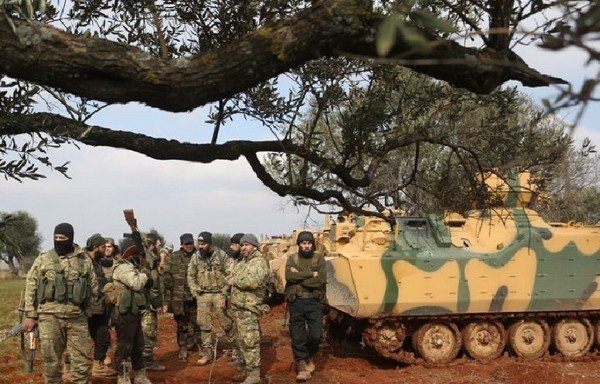 Merkel and Macron spoke Thursday with Russian President Vladimir Putin, calling for the fighting to end and seeking a four-way summit, including Erdogan.
In their phone call with Putin, Merkel and Macron also voiced concern about a "humanitarian catastrophe".
The EU's 27 leaders on Friday condemned Syrian regime attacks on the city of Idlib, warning of humanitarian disaster.
"The renewed military offensive in Idlib by the Syrian regime and its backers, causing enormous human suffering, is unacceptable," said the EU council, which represents the EU's 27 member states.
"The EU urges all parties to the conflict to fully respect their obligations under international humanitarian law and international human rights law and to allow unimpeded and direct humanitarian access to all those in need," it added.
Clashes pitting Turkish forces and their Syrian allies against pro-regime forces left 27 fighters dead Thursday, the Syrian Observatory for Human Rights said.
The Observatory said at least 11 pro-regime fighters and 14 on the opposition side were killed, as well as two Turkish soldiers.
Turkey has lost 16 military personnel in Idlib this month in clashes with regime forces, and has bolstered its positions while calling for the regime to pull back.
'No face off' with Russia
Turkey said Thursday it wanted no "face off" with Russia.
Russia warned Turkey meanwhile to stop arming the "terrorists", saying Russian warplanes had struck Ankara-backed groups in the Idlib region.
Ankara denies Moscow's claims that it supports extremist groups in the region.
"We have no intentions of a face-off with Russia," Turkey's defence minister Hulusi Akar told CNN Turk broadcaster, adding talks would continue with Russian officials.
One of the issues being discussed is the airspace above Idlib and Turkey's expectations for Russia not to get involved, Akar said.
There has been no concrete agreement between Russia and Turkey after two rounds of talks between their respective delegations in Ankara and Moscow earlier this month.
Ankara insists that it wants to avoid a humanitarian disaster but also wants to avoid flow of refugees into Turkey, which is already home to 3.6 million Syrians.
The Turkish defence ministry said it retaliated against regime forces on Thursday, with "over 50 regime elements, five tanks, two armoured personnel carriers, two armoured pickups and one howitzer destroyed".
Clashes also were reported between regime forces and Turkey-backed opposition fighters in al-Nairab, between Idlib city and the town of Saraqeb, according to the Observatory.
Regime ousted from al-Nairab
Turkey-backed opposition militias in Idlib, with support from Turkish forces, seized control of the south-eastern Idlib town of al-Nairab after forcing Syrian regime forces to withdraw, Idlib activist Haisam al-Idlibi told Diyaruna.
Turkish forces came under fire from shelling and Russian airstrikes that killed two of their soldiers and wounded five others, he said.
The incident occurred following an assault by armed opposition groups and Tahrir al-Sham on al-Nairab, he said.
Al-Idlibi said Turkish forces provided heavy missile support and advanced military vehicles towards the combat zones in an attempt to retake areas the regime had captured over the past few days.
Al-Nairab's location is significant, he said, as it lies on a strategic corridor to the city of Idlib, the main stronghold of Tahrir al-Sham and other opposition groups.
"The regime withdrew from al-Nairab and the assault forces entered the town, took positions south of it, and are conducting sweep operations," al-Idlibi said.
Heavy fighting, shelling and airstrikes are continuing, he added, with many towns and villages in Idlib coming under Russian airstrikes.
Among those injured in ongoing fighting were two media activists, Ibrahim Darwish and Ahmed Rahal, who were hit with shrapnel from a missile fired by a Russian warplane as they were covering the conflict, he said.