Syrian media and relief activists are calling for help for the civilian population in the north-western provinces of Idlib and Aleppo as the Syrian regime presses an offensive that has displaced 900,000 people since December.
Thousands have fled the fighting in recent days, with the newly displaced forced to camp out in fields in relatively safer areas near the border with Turkey as the existing camps are already full, Idlib activist Haisam al-Idlibi told Diyaruna.
There is a potentially life-threatening lack of any real support for these latest arrivals, he said, which has alarmed activists in the area.
This prompted a large group of activists to issue a call, via social media, prevailing on civilians in areas that are still outside the regime's control to quickly provide aid for the displaced population in north-western Syria, he said.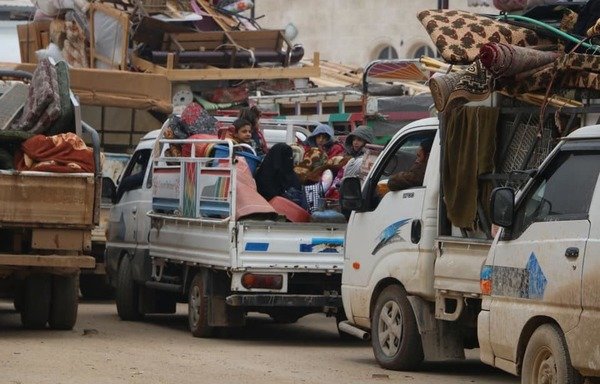 Civilians in northern Syria already face hardships and difficult conditions after more than eight years of war, and internally displaced persons (IDPs) even more so, he said.
Among the most pressing problem is a near-total lack of organised aid from the major international organisations, he said.
Local relief efforts
"Though local relief efforts organised by activists on the ground are modest and limited in scale, they are beginning to make a clear difference," al-Idlibi said.
These include the collection of cash and in-kind donations, as well as individual initiatives, such as providing free food and bread to the displaced population, he said.
Supplies of basic commodities and food items are gradually being depleted, however, he said, as the civilian population of northern Syria has swelled to more than three million.
Conditions in the informal camps are dire, he said, as health care is almost completely lacking and there is an acute shortage of food and mazout (heating oil) amid freezing temperatures.
Several deaths have been recorded, he noted, with the elderly and children particularly vulnerable to the cold.
Additionally, 12 children and three women contracted food poisoning in a camp near the Turkish border after eating spoiled food, and were transferred by the White Helmets to a medical post for treatment.