Iraqi authorities recently announced they have completed procedures for the opening of 17 mass graves of Yazidis killed at the hands of the "Islamic State of Iraq and Syria" (ISIS) in northern Iraq's Sinjar district.
"Procedures have been completed to open 17 graves containing Yazidi victims that were killed by ISIS in the village of Kojo in Sinjar," said the Kurdish regional government's Deputy Minister of Martyrs and Anfal Affairs Barvan Hamdi.
After the defeat of ISIS, he told Diyaruna, "71 graves were discovered in Sinjar and its outskirts".
The remains of 235 ISIS victims have been exhumed from the recently opened graves and transported to Baghdad, he said, where DNA tests will be performed to determine their identity.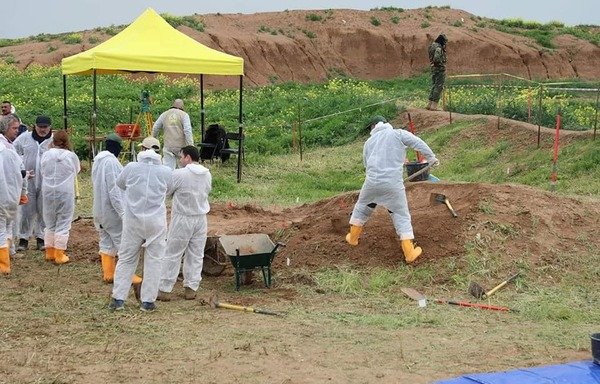 Procedures to open the graves began last March, he said, as part of a collaborative effort between the Ministry of Martyrs, the Iraqi Martyrs Foundation's Directorate of Mass Graves and the Iraqi Ministry of Health.
Various international organisations are also involved in the effort.
"Our work is ongoing, and we intend to open more Yazidi graves in the next couple of weeks, according to a schedule," he said.
Some delays in procedures
The issue of Yazidi graves is "still moving slowly", said Hussam Abdullah, an official from the Yazidi Organisation for Documentation.
This is despite government promises "to quickly resolve this issue and protect the rights of the victims and compensate their loved ones, based on the principles of criminal justice", he told Diyaruna.
He noted that only the graves in Kojo had been opened, "while dozens of others in other villages and residential areas in Sinjar have yet to be opened".
"The remains removed from the opened graves have still not been genetically tested and have not been matched with blood samples of the victims' families so identification can occur," Abdullah said.
"We had hoped to complete these tests and hand over the remains to their families so they could conduct funeral services in mid August of last year, which marked the fifth anniversary of the (Kojo) massacres," he added.
He noted however that "the government confirmed its commitment to carry on the effort in spite of limited financial resources and the exceptional conditions that the country is witnessing".
There have been some delays in completing the DNA tests, Hamdi confirmed, as a result of "the pressure placed on the [Baghdad forensics] department because of the sheer volume of mass graves discovered in different parts of the country".
In addition to mass graves containing the remains of victims of ISIS, he said, there are others that contain the remains of the victims of al-Qaeda and of those who were slain under the regime of ex-dictator Saddam Hussein.
Victims' families need answers
"No less than 1,000 Yazidi family members have raised complaints over the past several years regarding their children and relatives who went missing during the time that ISIS occupied Sinjar," Judge Ayman Mustafa told Diyaruna.
Mustafa serves as investigative judge for a regional government commission that is investigating ISIS crimes in Sinjar, Ninawa Plains and Dohuk.
"As a legal entity, we took legal steps to register, investigate and document those complaints," he said. "But we are awaiting the results of the genetic testing of the remains so we can continue our procedures and protect the rights of the victims and their families."
ISIS has committed numerous atrocities that can be classified as genocide and crimes against humanity, Mustafa said, stressing that it is everyone's responsibility to deliver justice and hold the perpetrators accountable.
In late November, UN Investigative Team to Promote Accountability for Crimes Committed by ISIS (UNITAD) head Karim Khan said investigations had revealed 160 individuals were involved in crimes against Yazidis in Sinjar.
Work is under way to gather evidence and make it available to the courts.
ISIS has abducted 6,417 people and the fate of about half of them is still unknown, according to official estimates.