Syrian regime forces are continuing their offensive to flush out the last opposition bastion in northern Syria, even as aid organisations and local activists warned of "horrifying" consequences for civilians in the area.
"The battle for the liberation of the provinces of Aleppo and Idlib continue, regardless of all the hot air coming out of the north," President Bashar al-Assad said Monday (February 17th) in an address on state television, in reference to warnings by Turkey.
The offensive is having drastic consequences, however, with hundreds of thousands of civilians displaced and babies dying of cold because camps for internally displaced persons (IDPs) are full.
The Russian-backed regime offensive in north-west Syria has displaced 900,000 people since the start of December, according to the UN.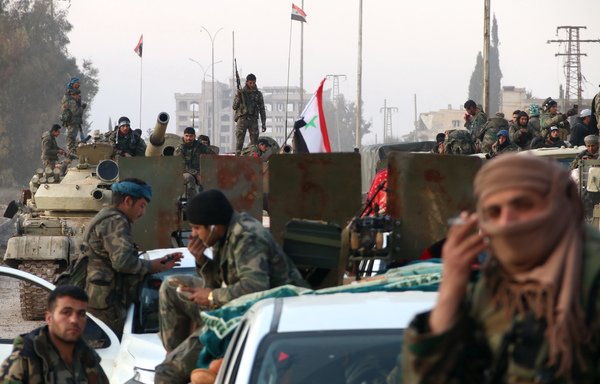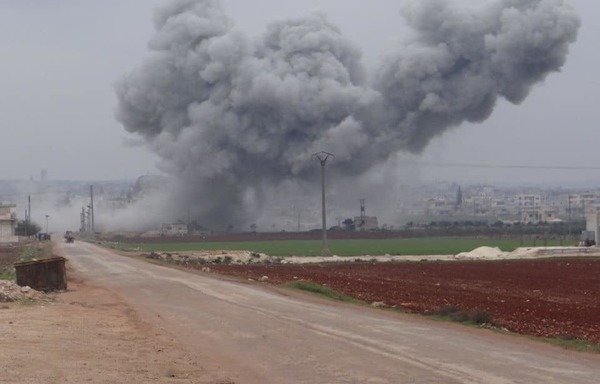 "The crisis in north-west Syria has reached a horrifying new level," said Mark Lowcock, the UN head of humanitarian affairs and emergency relief.
The displaced are overwhelmingly women and children who are "traumatised and forced to sleep outside in freezing temperatures because camps are full", he said Monday. "Mothers burn plastic to keep children warm. Babies and small children are dying because of the cold."
"The only option is a ceasefire," Lowcock said.
The latest violence on Tuesday left at least two civilians dead. One was killed in a Russian airstrike and the other in regime shelling.
A member of Iran's Islamic Revolutionary Guard Corps (IRGC), which backs al-Assad, was killed in a rocket strike, Fars news agency reported.
Call for humanitarian corridors
"Over the past four days alone, some 43,000 newly displaced people have fled western Aleppo where fighting has been particularly fierce," UN spokesman David Swanson told AFP on Tuesday.
Since the start of February, the displacement figure was a staggering 300,000, he said.
The UN Office for the Co-ordination of Humanitarian Affairs said the temperature dipped to minus 7 Celsius in some areas last week.
"Those families who could take some of their belongings as they fled from their homes are reportedly burning whatever they could find, including pieces of furniture and whatever can be spared to stay warm for a short while," it said.
The UN High Commissioner for Human Rights Michelle Bachelet called for the establishment of humanitarian corridors for fleeing civilians to prevent further loss of life.
"As the government offensive continues and people are forced into smaller and smaller pockets, I fear even more people will be killed," she said in a statement.
Massive wave of IDPs
The Idlib region, including parts of neighbouring Aleppo province, is home to about three million people, half of them already displaced from other parts of the country.
In recent weeks, Syrian troops and Russian-backed allied forces have stepped up their offensive against opposition and terrorist groups in the region.
They have already reconquered swathes of Idlib as well as key areas that have secured the crucial M5 highway, which links Damascus to Aleppo through the cities of Homs and Hama, as well as the entire surroundings of Aleppo city for the first time since 2012.
"A massive wave [of IDPs] has reached northern Syria and the relatively safe border area with Turkey following the advance of the Syrian regime's army and allied militias in areas south and west of the city of Aleppo", where Tahrir al-Sham has withdrawn from about 80 towns, villages and checkpoints, Idlib-based activist Musab Assaf told Diyaruna.
"The IDPs' situation is tragic as they are scattered in informal camps" while the temperatures continue to drop, he said.
Thousands of civilians are now fleeing Aleppo and surrounding areas out of fear they will be harassed and arrested by regime forces and allied militias under the pretext of belonging to opposition groups, he said.
The fear of forced conscription is another factor, he added.
Indiscriminate violence
The large number of IDPs shows the regime's disregard for its people, Syrian lawyer Bashir al-Bassam told Diyaruna.
"How can the regime say it is protecting civilians when their homes are being bombed and hundreds of them are killed with the help of Russia?" he asked.
"What is happening is an expansion of Russian hegemony at the expense of the Syrian people," he said.
The UN's Lowcock warned that the violence was "indiscriminate".
"Health facilities, schools, residential areas, mosques and markets have been hit," he said. "Schools are suspended, many health facilities have closed. There is a serious risk of disease outbreaks. Basic infrastructure is falling apart."
"We are now receiving reports that settlements for displaced people are being hit, resulting in deaths, injuries and further displacement," he said.
A massive relief operation under way from the Turkish border has been "overwhelmed", he said. "The equipment and facilities being used by aid workers are being damaged. Humanitarian workers themselves are being displaced and killed."
US President Donald Trump on Sunday (February 16th) called for Russia to end its support for the Syrian regime's "atrocities" in the Idlib region, the White House said.