War and terrorism have left their indelible mark on Iraqi children who, more than two years after Iraq was liberated from the "Islamic State of Iraq and Syria" (ISIS), still suffer from the psychological effects of that incursion.
Local Iraqi civil society organisations have been working together to treat those children who are suffering from post traumatic stress disorders as a result of conflict-driven experiences.
Maryam, an 11-year old girl from Mosul, was living a normal life before ISIS took over Mosul and "terrorised us", said her father Mithaq Ali.
"This led to our displacement and all the associated hardships, all of which gradually took its toll on my daughter's health," he told Diyaruna.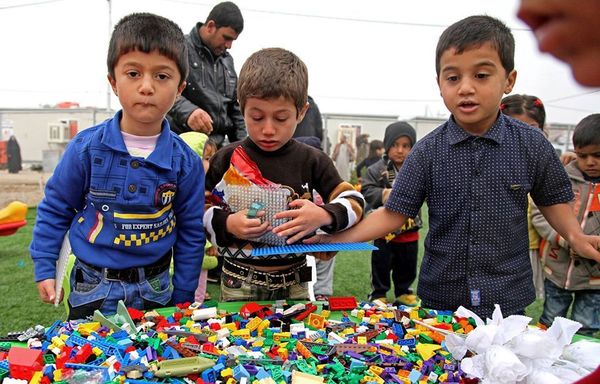 "She was scared and would cry for no reason and spent most of her time silent without uttering a word."
"After the liberation, we returned home and her condition started improving once she went back to school and was enrolled in a psychological rehabilitation programme," he said. "I hope she continues to improve."
Children face fear, depression
Jud, a Mosul-based humanitarian organisation for development and reconstruction, is one of several civil society organisations that have been treating Iraqi children who suffer from mental health issues.
"We have been dealing with several cases, some of which are mild while others require a longer treatment process," said Jud director Layla al-Barazanchi.
"The more serious cases involve depression and unnatural fear as a result of a horrific shock or repeated stimulation," she told Diyaruna.
"For example, there was a girl who would scream and hide whenever she heard a loud sound, and another girl had physical health problems triggered by her fear," she said.
Jud has been working with local organisations and UNICEF to provide child friendly spaces across schools in Mosul.
These spaces, which were opened in 25 schools, attract between 20 to 30 children each who have experienced shocking events such as seeing or living through acts of violence or being constantly terrorised.
"We have achieved positive results in the treatment of several cases through these spaces, which provide children with a chance to have fun and feel safe and integrated," al-Barazanchi said.
"Some of the children, however, have had a slower response and require a longer period of treatment in an environment conducive to rehabilitation," she added.
ISIS children suffer the most
Nuha Derwish, who teaches psychology at Baghdad University and was involved in the treatment of more than 300 children suffering from the effects of terrorism, said that children are the most susceptible to the effects of fear.
"The scenes of violence that a young mind cannot comprehend stay in their imagination, later turning into deeply rooted fear complexes or phobias," she said.
She noted that "several cases quickly recover and bounce back but some require more significant psychological support, which calls for opening more specialised centres to treat such cases".
"The children of ISIS fighters, who were at the heart of the violence, have suffered the most damaging psychological effects of terrorism," Derwish said.
"Fear has been implanted in these children's minds by their parents who believe that violence is a legitimate form of behaviour, so their children feared the consequences of not obeying their parents' orders," she added.
Moreover, the children who lived in displacement camps for an extended period of time have had to endure the effects of isolation and feelings of oppression.
This in turn reinforced the psychological disorders they might suffer from and made them "more susceptible to being hateful and vengeful towards society", according to Derwish.
Collaboration among civil society organisations
Derwish called for more collaboration between civil society organisations and the government in order to integrate efforts and develop suitable treatment programmes for each case, depending on its nature and level of severity.
Muhannad al-Awmari, media officer for the Network of Civil Society Organisations in Ninawa, said that the 56 civil society organisations within the network are collaborating and organising joint psychological rehabilitation activities for the children of Ninawa.
"Our network has worked over the past six months to provide a range of services for close to 1,000 children," he told Diyaruna.
"We have at least three weekly courses offered to about 20 children per course," he said.
The aim of these courses, according to al-Awmari, is to "erase images of terrorism from the memory of these children and educate them on the concept of peace".
They also offer "awareness, recreation and capacity building programmes designed to drive away worry and fear from their minds", he said.