Three Iraqi journalists have been killed since the beginning of this year, raising concerns among press rights groups that armed groups are attempting to silence journalists covering the ongoing protests throughout the country.
Nizar Dhanoun, the general supervisor of the al-Rashid satellite channel, was the latest victim.
Gunmen riding in a vehicle bearing no plates assassinated Dhanoun on Tuesday (February 11th). They shot him using silencer-equipped weapons near his home in al-Jamaa neighbourhood, western Baghdad, before fleeing to an unknown location.
The security forces immediately launched an investigation into the incident to find out the perpetrators' identity, according to a statement by the TV channel.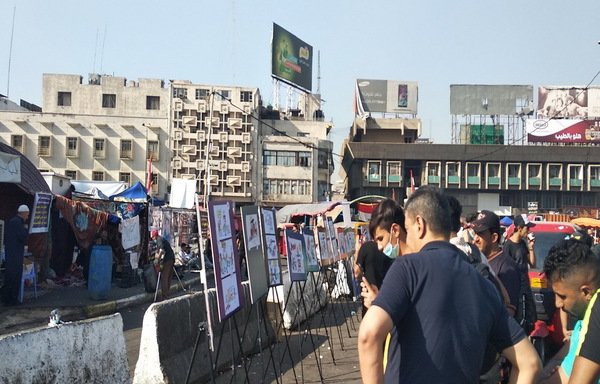 The attack comes one month after the killing of Tigris satellite channel correspondent Ahmed Abdul Samad and photographer Safaa Ghali by unknown persons in Basra.
"Dhanoun is the third victim of the journalism community to be killed in under a month and a half," said Ibrahim al-Saraji, head of the Iraqi Journalists Rights Defence Association.
"The series of assassinations of journalists continues in light of the weak investigations and punitive measures taken to curb this bleeding," he told Diyaruna on Thursday (February 13th).
Armed parties are accused of being behind these assassinations, with the aim of suppressing the protests and forcing the media to not cover them.
More than 100 attacks against journalists
There have been more than 100 attacks against media organisations and journalists since the protests broke out last October, according to al-Saraji.
They included the storming of satellite channel offices by "unorganised" parties, destroying their equipment, and beating reporters and photographers.
Many journalists have been directly assaulted and harassed but have not announced it for fear for their safety, al-Saraji said. Others have received explicit death threats, forcing them to move to safer locations.
Al-Saraji urged the government to show greater interest in the increasing incidents of violence against journalists and to conduct transparent investigations that will bring perpetrators to justice and help stop the violence.
"There should be a safe environment for journalists that facilitates their work, access to sources of information and journalistic coverage," he said.
Iraqi Interior Minister Yassin al-Yasiri's decision last month to allow journalists to carry arms is "not the solution", al-Saraji said.
The use of weapons should be restricted to the security forces, as they are the only party responsible for providing protection to all citizens without exception, he said.