The local government in Ninawa province on Thursday (February 6th) has embarked on a mission to rebuild 800 houses destroyed by terrorist operations and fighting in Mosul's Old City.
The reconstruction of this new batch of houses is part of national and international endeavours to enable internally displaced people (IDPs) to return to their areas after they were displaced by the "Islamic State of Iraq and Syria" (ISIS).
The houses that will be rebuilt are located in five Old City areas: al-Sarjakhana, Ras al-Kour, al-Shahwani, and the areas of al-Farouq al-Qadima and al-Farouq al-Jadida.
The reconstruction of homes in Mosul, especially in the Old City, is being done in co-operation between the Ninawa government and local and international organisations, Mosul mayor Zuhair al-Araji told Diyaruna.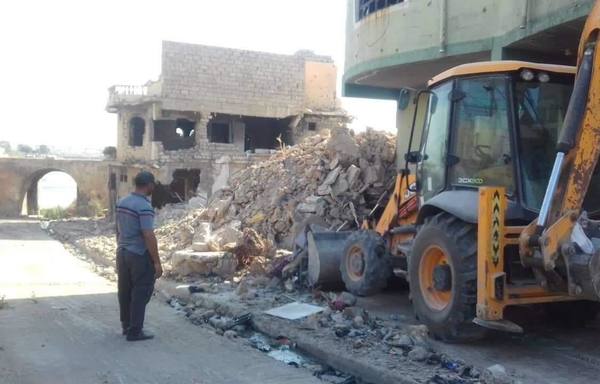 "The UN Development Programme, Habitat and supporting organisations have previously completed the restoration of nearly 1,000 homes in several batches," he said.
The degree of damage to those houses "ranged between 10% and 40%, and they were spread across several neighbourhoods, most notably al-Zanjili, al-Mansour and al-Ghazlani", he said.
This time, reconstruction will focus on the houses that have been completely ruined, "starting with 28 houses next week", al-Araji noted.
Parallel projects
Meanwhile, co-operative unions and associations as well as the Mosul Chamber of Commerce and the General Cement Company, are launching their own initiatives to help repair homes with a damage degree of up to 60%, he said.
In each initiative, anywhere from five to 10 houses are built, depending on the funds allocated to these bodies by the local government, al-Araji said.
"Our partnership with these supporting bodies continues and is producing good results," he stressed.
"The local administration is working to encourage and support all actions aimed at rebuilding and restoring homes that were destroyed during the war, to enable the residents to come back and resume their daily life," he said.
Home reconstruction is accompanied by infrastructure projects in the neighbourhoods of al-Maydan, al-Shahwani, al-Tawalib and al-Qurayaat.
They include "removing rubble from main streets, covering them with asphalt, adding street light, restoring drinking water services, repairing sewage networks, and providing electricity to the neighbourhoods", al-Araji said.
"We seek to restore all of Mosul's ancient landmarks and erase the traces of destruction left by terrorism," he said.