The Iraqi government is in the final stages of a plan to expand and renovate a number of state-run prisons, and is expecting to reopen these correctional facilities in the near future, a government official said.
This step is expected to contribute to resolving the issue of overcrowding that has worsened in recent years following the closure of several main prisons and a heavy influx of "Islamic State of Iraq and Syria" (ISIS) inmates.
Reconstruction is close to completion at the Baghdad Central Prison (formerly Abu Ghraib), and the facility is expected to return to operation soon, Ministry of Justice spokesman Thaer al-Jubury told Diyaruna.
This prison, built in the 1950s, was closed five years ago for renovation, he said.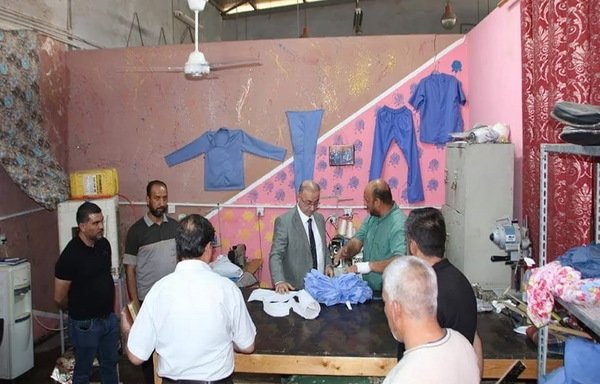 Work to expand the capacity of al-Taji prison in northern Baghdad and the Babil Central Prison also has been completed, al-Jubury said.
The reopening of these prisons will help "end overcrowding among inmates across several correctional facilities", he said.
The Ministry of Justice is responsible for managing 29 prisons throughout the country, he added, noting that the closure of large prisons that are undergoing renovation work "put pressure on other prisons".
Badush prison, in the Mosul area, has been out of operation since it was destroyed by ISIS when the group overran the city in mid-2014, al-Jubury said.
This closure has contributed to overcrowding at other facilities, he said.
The ISIS incursion also contributed to prison overcrowding "as a result of ongoing arrests of terrorists who were subsequently convicted, sentenced and imprisoned in facilities run by the Ministry of Justice", he added.
Rehabilitation is the goal
"Our prisons are primarily correctional facilities whose goal is to reform and rehabilitate prisoners," al-Jubury said. "We seek to give inmates access to their right to continued education as well as taking exams from the prison."
"We also have organised ongoing rehabilitation courses for inmates, including vocational training for those who want to pursue a career after they serve their sentence," he said. "This way, we can help them rebuild their lives and become productive members of society."
A health centre in each prison aims to ensure inmates receive the care they need, he said, and inmates are allowed to receive regular family visits.
Prisons are ready to open their doors to inspection teams from the International Committee of the Red Cross (ICRC) and human rights groups to ensure they are abiding by national and international standards, he added.
Teams from Iraq's High Commission for Human Rights conduct regular visits to the prisons, commissioner Anas al-Azzawi told Diyaruna.
"The main problem is overcrowding," he said, noting for example that al-Hut prison in al-Nasiriyah was designed to accommodate 2,500 inmates but is now housing many more.
"Overcrowding ultimately affects services provided to inmates and their living conditions," he said.
Expanding larger facilities
The Ministry of Justice is expanding a number of prisons, including Baghdad Central Prison, which will now be able to accommodate nearly 5,000 inmates, and Chamchamal prison in Sulaimaniya, which can now house more than 3,000.
Al-Hilla prison in Babil province, to the south of Baghdad, can hold around 2,000 inmates, al-Azzawi said.
"If all closed prisons are reopened and those in service are upgraded, this will help reduce overcrowding," he said.
"However, there will remain a need to build more prisons, especially since official statistics refer to nearly 37,000 individuals incarcerated in Iraq," he noted.
Lawyer Tariq Harb stressed the importance of rehabilitating, upgrading and expanding correctional facilities throughout Iraq to keep pace with the country's increasing population.
Most prisons in Iraq "were built many years ago", he told Diyaruna, and comprised basic facilities offering rudimentary services to the inmates.
"Increasing their capacity and upgrading them is essential in order to create an environment that is conducive to rehabilitation of inmates," he said.
The government is committed to ensuring the rights of inmates are upheld and that they receive the care they need, in line with international standards, he said.