The Iraqi government is working to repair damage to education infrastructure in Ninawa province as a result of the war on terrorism.
Officials announced on January 21st the start of a campaign to repair school buildings that were damaged and to build new ones in Mosul and other cities in the province.
The large-scale campaign is to be funded with a budget of 112 billion Iraqi dinars ($94 million), according to Khaled Shaheen, deputy director of the Directorate of Education in Ninawa.
Shaheen said the campaign "involves the reconstruction and building of 500 schools this year with the support and participation of the Ministry of Education and the local Ninawa government, in addition to the UN Development Programme (UNDP) and UN Children's Fund (UNICEF)".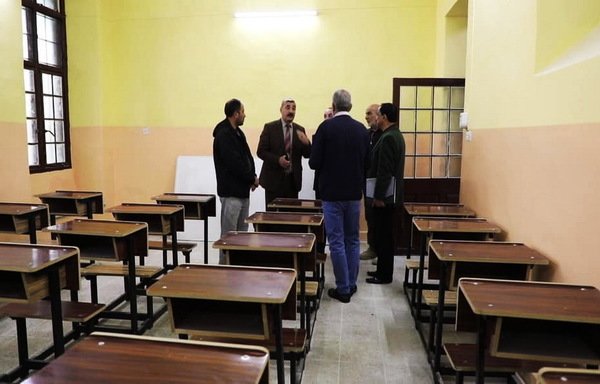 The reconstruction campaign will focus on Mosul, he said, in addition to administrative districts whose schools have been heavily damaged, particularly in Sinjar, Hatra and al-Baaj.
Since the liberation of Ninawa from ISIS in August 2017, the local government has reopened 2,160 out of 2,500 primary and secondary schools throughout the province.
On January 19th, eight schools were reopened with the support of the Reconstruction Fund for Areas Affected by Terrorist Operations and the UNDP.
Reconstruction efforts included the rehabilitation of science laboratories and libraries, Shaheen said, noting that 260 laboratories for teaching chemistry, physics, biology and computer programming, and 60 school libraries were opened over the past year.
Raising quality of education
Officials hope the campaign would help resolve the shortage in school buildings which has resulted in splitting classroom instruction into up to three shifts.
Mobile schools were also a temporary alternative to substitute for the 126 schools that were completely damaged, most of which are located in Mosul's Old City.
Raad al-Jubury, union of Iraqi teachers head in Ninawa province, told Diyaruna the education sector is still facing huge challenges.
"The existing school buildings are not enough and the solutions in place are temporary and could potentially provide education for thousands of students but not at the required level," he said.
"We currently have no less than 200 mobile schools located in residential areas that were heavily affected by terrorism and in IDP camps, but they do not provide a suitable environment for students to learn," he said.
"Moreover, the double or triple shifts are exhausting for students and affect the level of their comprehension and the quality of education," he added.
Al-Jubury stressed that the reconstruction campaign will significantly help resolve these problems and raise the quality of education in the province.
"The areas affected by war such as Sinjar and its administrative districts are suffering from severe shortages in schools as most of these buildings are still destroyed and have not been reconstructed," said former Ninawa provincial council member Khadida Hamo, who is a Yazidi.
"We hope this new campaign will focus on these areas and help with the advancement of the education sector there," he told Diyaruna.