Kirkuk province is witnessing a flurry of reconstruction activity as part of a broad plan to revitalise public services and provide job opportunities, officials told Diyaruna.
In 2019, the local authority enacted plans to launch hundreds of public service projects, some of which are already underway, they said.
The province has gradually begun to erase the effects of terrorism that cast a heavy shadow on public services, as many projects were stalled due to poor funding, said Kirkuk media director Marwan al-Ani.
"Last year, our province put forward an ambitious work plan aimed at starting more than 600 small and medium-sized strategic projects related to public services," he told Diyaruna.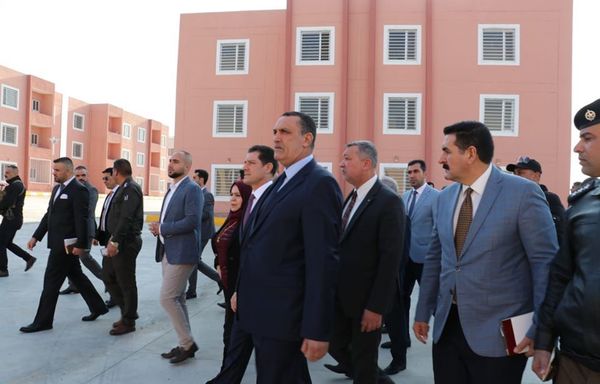 The implementation phase of some of these projects began two months ago, while others are in the process of being assigned to companies so work can commence, he added.
The projects focus on basic services in the housing, education, health, infrastructure and municipalities sectors, said al-Ani.
"It is likely the plan will provide no less than 25,000 job opportunities," he said.
The plan is being implemented "in parallel with other efforts led by the Fund for Rebuilding Areas Affected by Terrorist Operations to rehabilitate public services projects", he added.
Millions of dollars have been earmarked to rebuild main roads and bridges, as well as schools, hospitals and electricity and water networks, al-Ani said.
In addition to these efforts, a federally-funded plan is in place to help maintain stability and return displaced families to their homes, he said.
The pace of reconstruction in Kirkuk is increasing on a daily basis, he said, citing the "remarkable pace" of development at the centre of Kirkuk province.
"There are residential areas that have been lacking public services for decades and are now receiving fully integrated municipal services," said al-Ani.
Housing projects gain traction
The Ministry of Planning has prioritised reconstruction efforts in Kirkuk and all provinces liberated from terrorism, ministry spokesman Abdul Zahra al-Hindawi told Diyaruna.
Kirkuk is currently witnessing a leap in implementing approved projects and using the funds earmarked for its reconstruction from the public budget as well as oil revenue funds, he said.
A large number of projects have been implemented, especially in the housing sector, he said, where the focus has been on serving the most impoverished families that are without shelter or a source of income.
"In late 2019, we opened two residential complexes in Kirkuk that comprise 300 low-cost apartments," al-Hindawi said.
A third complex in the southern part of the province that comprises 120 apartments is currently under construction, he added.
But the demand for low-cost housing is high and more needs to be done to accommodate the more than 5,000 housing requests the ministry has received to date, he said.
"Housing is one of the most complex issues in the province as terrorism has led to the displacement of thousands and the destruction of their homes and villages," said Kirkuk provincial council member Maan al-Hamdani.
Nearly 116 villages in Kirkuk are completely destroyed, in addition al-Multaqa sub-district, he said, expressing hope they will be included in the reconstruction plans so displaced residents can return to their areas.