Iraq is making significant progress confronting "Islamic State of Iraq and Syria" (ISIS) remnants after the government's decision last year to reinstate military personnel whose contracts were discontinued.
Over the past six months, more than 100,000 military personnel were brought back to service.
These forces were let go because they failed to report back to their posts during the security incidents that occurred following the takeover of ISIS in mid 2014.
Returning soldiers have been enrolled in intensive training courses to raise their physical and combat preparedness, develop their skills and raise their morale, said Ministry of Defence spokesman Brig. Gen. Yahya Rasul.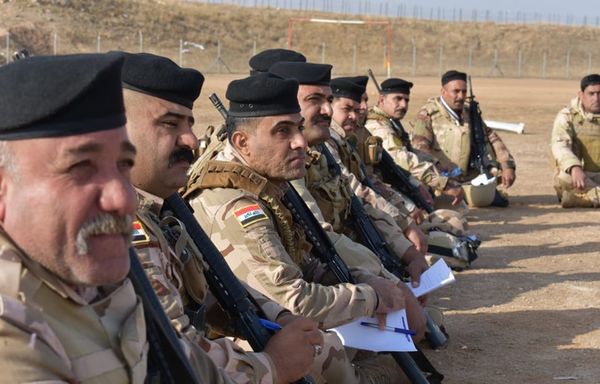 The number of returning soldiers across army units has reached 61,000 as of the start of this year, he told Diyaruna.
They have been assigned to their previous units as well as to newly formed and restructured military commands, especially in the provinces that were liberated from ISIS, he said.
The army's enhanced combat capabilities are due to the increased number of soldiers, he said, noting that this increase "has bolstered our security efforts and allowed us to make strides in the war on terrorism".
"Our forces are in full control of our territory and are mounting offensives and successfully hunting down enemy remnants, which has clearly reflected on the security situation across the country," Rasul said.
Increasing pressure on ISIS
To date, the police force also has absorbed nearly 42,000 former police members, with plans to reinstate the same number in batches in 2020.
Shallal Naji, a former member of the Anbar provincial council's security committee, said that bringing back police personnel who were previously dismissed was "one of our key demands and the government has listened".
"Our province is one of the larger provinces and includes a vast desert and sprawling cities," he told Diyaruna.
"For this reason, we had asked to increase the number of security personnel by allowing dismissed members of the local police force to return to their units," he said.
"Thousands of former police personnel have come back in stages, the last of which was a group of 4,000 individuals," he added.
Today, the Anbar police has largely made up for the shortage in policemen and now boasts 20,000 members out of the 28,000 it used to have before 2014, Naji said.
"There still is a shortfall but the increases were really positive and helped support plans and procedures to increase the pressure on ISIS elements hiding in the desert and further fortify cities and villages against terrorist threats," he said.
Many of the police force returnees have been incorporated into tactical emergency regiments after undergoing high level trainings, he said, noting that these regiments are today spearheading the fight against ISIS remnants.
"All of these returnees are primarily former members of the army and police forces that took part in fighting terrorists and have a lot of military experience," said security expert Mohammed Razzaq al-Rubaie.
"Therefore, their return is crucial to increase the pace of military operations," he told Diyaruna.
The war against ISIS is not over yet, he stressed, and "exterminating its danger requires more trained security forces that are armed with the most advanced weapons".