France has been actively contributing to Iraq's efforts to eliminate the threat of landmines and unexploded ordnance left behind by the "Islamic State of Iraq and Syria" (ISIS) in the areas it once controlled, experts told Diyaruna.
To address this issue -- one of the main obstacles to the return of displaced families -- French experts have stepped in, holding training sessions for Iraqi personnel involved in de-mining efforts.
During a "post-attack investigation" course held in December, engineers from France's Narvik task force trained the Iraqi Counter-terrorism Service (CTS) to take evidence following a simulated improvised explosive device (IED) blast.
CTS personnel, trained by Narvik task force as part of Opération Chammal, serve on the front line of the fight against ISIS and regularly intervene at the scene of explosions.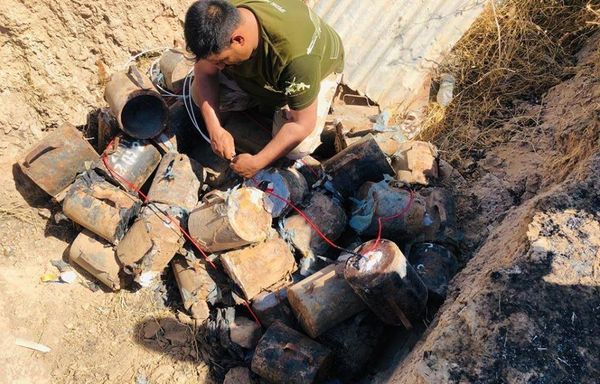 Opération Chammal is the French component of Operation Inherent Resolve, a coalition of 80 countries and organisations allied against ISIS. It works to support troops on the ground and to provide training to the Iraqi security forces.
France on Tuesday (January 7th) confirmed it has "no intention" of withdrawing its troops from Iraq as tensions soar over the US killing of a top Iranian general.
France has contributed around 200 soldiers to the international coalition fighting ISIS, of whom 160 are tasked with training Iraqi military personnel, according to the French defence ministry.
"Since Friday we have reinforced security for our French soldiers deployed in Iraq," Defence Minister Florence Parly said Tuesday.
"The priority today is the same as it was yesterday and should be tomorrow: the fight against ISIS and its resurgence on the ground in the Middle East, and its propaganda on the internet," Parly added.
Advanced training
Tackling the issue of unexploded ordnance has been a complex challenge, Iraqi Ministry of Defence spokesman Maj. Gen. Tahseen al-Khafaji told Diyaruna.
"There are large swathes of land that are contaminated with explosives, as bombs were planted in residential homes, roads, infrastructure and in locations that would not cross anyone's mind," he said.
In order for normalcy to return in any liberated area, it is critical to first remove these contaminants, he said, "and this is where our international partners, and the French in particular, have provided the necessary support".
Al-Khafaji said the French have provided advanced training for engineering teams at the Iraqi ministries of defence and interior on the unearthing and safe dismantling of landmines and bombs.
In 2019, 12 experts from the Iraqi interior ministry received certificates of expertise after completing five-month training courses in France on how to handle and defuse bombs planted on bridges, riverbanks and underwater.
French trainers also set up bomb-dismantling courses at a training facility in Salman Pak, south of Baghdad, with a focus on chemical bombs, he said, in addition to supplying the facility with bomb protection and detection equipment.
The courses have helped Iraqi experts "to gain high-level skills and allowed them to transfer their skills and expertise to their colleagues", al-Khafaji said.
France also has been helping to build Iraqis' technical capacity in the field of mine action, he said, while calling on the wider international community to provide more support for this endeavour.
"We still are in dire need of more equipment necessary for the finding and treatment of explosives and minimizing their risk," he said.
"We have made good progress towards minimising the threat posed by landmines and saving the lives of local residents," he added, noting however that the threat still persists.
In addition to training, the French government, with help from the UN, provided $590,000 of funding in 2018 to national and international companies working on removing IEDs and landmines in the areas liberated from ISIS.
Restoring normal life
Thanks to French and international funding, Iraqi mine-removal company Al-Fahad has been able to implement programmes that aim to clear all areas contaminated with ISIS explosives, said company director Mohammed Attia.
"We have managed to clear nearly 80% of all cities that were contaminated with landmines and terrorist remnants," he told Diyaruna, noting that the cleared areas included schools, health centres and infrastructure projects.
Additionally, in collaboration with US mine-clearing companies Janus and Tetra Tech, Al-Fahad has cleared nearly 200 contaminated locations in liberated provinces, he said.
A total of 30,000 projectiles and 125 tonnes of landmines and unexploded bombs have been destroyed, with funding from the US State Department.
Security analyst Sarmad al-Bayati praised France's efforts to help Iraq mitigate the effects of terrorism through supporting landmine removal operations.
France also has been contributing to efforts to expedite the return of internally displaced persons, after the explosive remnants of war have been cleared, he told Diyaruna.
But the road ahead to completely be rid of ISIS explosives "is still long and requires greater efforts by the Iraqi and international authorities", he said.