Iraqi officials in cities liberated from the "Islamic State of Iraq and Syria" (ISIS) told Diyaruna they are worried about the fallout from recent attacks carried out by Iran-backed Iraqi militias on US targets in Iraq.
They said they are concerned that the actions of these militias could lead to the suspension of important US-funded programmes that provide vital assistance in areas such as mine removal and in the fields of health and education.
Tens of thousands of Iraqis have benefited directly from US assistance, provided via the US Embassy or through various humanitarian organisations, said Anbar provincial council reconstruction committee member Khalid al-Dulaimi.
US assistance has greatly contributed to the rehabilitation and reconstruction of hospitals, health centres and schools across Iraq, he told Diyaruna.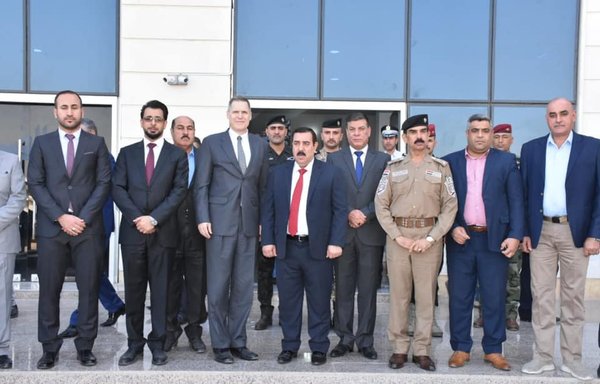 US Ambassador Matthew Tueller recently visited Anbar and laid the foundation stone for a model school that will serve more than 1,000 students in al-Habbaniyah, he noted.
Additional US-funded humanitarian projects are being implemented in Fallujah, al-Qaim and Ramadi, he said, "which everyone hopes will not be affected".
Since Anbar was liberated from ISIS, al-Dulaimi said, more than 40 US-funded aid projects have been implemented for the benefit of the people of Anbar.
US forces also have been helping the residents of both rural areas and cities clear mines and improvised explosive devices (IEDs) planted by ISIS, he said.
US commitment to Iraq
International aid, including programmes funded by the US, are the backbone of the mission to restore stability in al-Rutba and the Upper Euphrates, said Anbar tribal council member Sheikh Abdul Rahman Jassem al-Dulaimi.
By attacking sites that host US nationals, the Iran-backed militias could threaten the provision of various types of US aid to the Iraqi people, he said.
These include essential medical equipment, he said, noting that "a few days ago, a new ultrasound scanner was installed in Haditha district in Anbar with US assistance", meaning women will no longer need to travel to Baghdad.
On November 12th, the US ambassador to Iraq announced a new grant of $500,000 to Anbar University to help it restore its educational and vocational services for the benefit of Iraqi students.
Additionally, the US government has pledged $100 million to support stability in Anbar province.
During the ceremony to lay the foundation stone for Abdul Rahman al-Nasser School in al-Habbaniyah, Tueller reaffirmed the US's continued commitment to post-ISIS recovery in Anbar and other affected provinces.
"This programme will restore basic services such as water, electricity, sanitation, health, housing and education, which are the basis for achieving economic development," the US embassy in Baghdad said in a statement.
"The US is committed to creating the right conditions to allow displaced people to return to their areas of residence and rebuild their lives," it added.
'Humanitarian efforts must continue'
In Ninawa Plain, around 37,000 residents benefited from the US forces' efforts in removing mines and explosives, said Hossam Talkaifi, who serves on the local council of the city of Tall Kayf.
Many villages and rural areas were cleared of explosives, he told Diyaruna, and mosques, churches, several schools and a health centre were rehabilitated.
"The attacks currently being carried out by the militias are hurting the residents of the liberated cities who are in desperate need of daily assistance on every level, particularly in relation to the reconstruction of infrastructure," he said.
"The US efforts to help the Iraqi population require no explanation, and the people are grateful for them," Iraqi MP Mohammed Abed Rabbo told Diyaruna.
These humanitarian efforts must continue, he said, and the Iraqi government must create the right conditions for the providers, including aid agency employees, embassy staff and the staffs of all other foreign and UN missions.
Fallujah district commissioner Mouayad al-Farhan told Diyaruna he is grateful for the support and programmes provided by US organisations, adding that "daily walks in the city is a reminder of that assistance".