The Syrian Democratic Forces (SDF) have been conducting frequent security sweeps targeting "Islamic State of Iraq and Syria" (ISIS) sleeper cells in eastern rural Deir Ezzor province, an SDF official and local activists said.
ISIS cells have been attacking SDF personnel and supporters in the province, with the aim of sowing fear and insecurity, SDF officer Farhad Khoja told Diyaruna.
On January 8th, the Syrian Observatory for Human Rights reported there had been an assassination attempt on a member of the civil council of the town of Dhiban in eastern rural Deir Ezzor.
Unidentified gunmen on a motorcycle opened fire on the council member outside his house, but no injuries were caused, the Observatory said.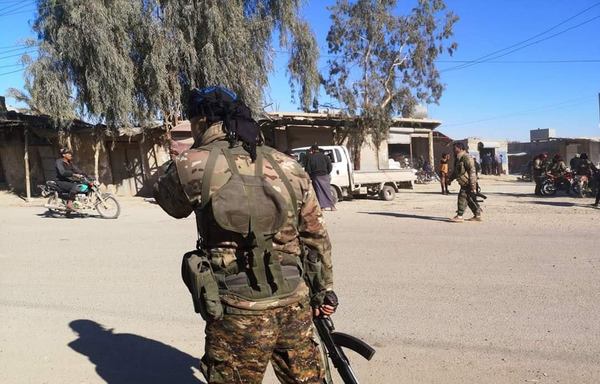 In the same area, an improvised explosive device (IED) blew up in a vehicle belonging to the SDF, causing injuries in its ranks, the Observatory said.
In co-operation with the international coalition, the SDF has been pursuing ISIS cells and collaborators "in precise security operations aimed at arresting the group's elements and those who support them", Khoja said.
Surveillance operations are carried out, and intelligence is collected and cross-checked against tip-offs provided by local residents, who are a key source of information, he added.
Their co-operation is especially important because many ISIS elements hide in the homes of civilians, he said, "as they know the SDF and the coalition would not conduct an operation that would endanger the lives of civilians".
"Several operations were conducted recently" targeting ISIS remnants, Khoja said, including an operation in Dhiban that led to the arrest of 14 ISIS elements and collaborators.
When ISIS remnants or sleeper cells come under pressure, they head to more populous areas for logistical support, obtaining information and food by threatening local residents, he said.
Local residents feel intimidated and pressured to comply with these demands when there are assassinations in their area, he added.
Spreading fear among residents
The attacks carried out by ISIS cells in various areas of Deir Ezzor aim, in addition to causing casualties among the SDF and civilians, to restore tensions and fear among civilians, activist Ammar Saleh told Diyaruna.
But the deterrent operations by SDF special forces will maintain security, he said, noting that the ISIS attacks and intimidation are "doomed to fail" because the region's people are fed up with the group and its disruption.
ISIS elements have no regard for civilian lives, he added, pointing to a January 1st car bombing the group carried out in front of a former SDF headquarters in the town of Abu Hamam, injuring a woman and two children.
ISIS remnants are trying to give the impression they hold power in Deir Ezzor, via assassinations targeting military personnel and civilians who work in civil institutions that administer the region, said activist Jamil al-Abed.
The workers try to meet all the needs of civilians, repair the infrastructure and provide basic services, he told Diyaruna.
Through these attacks, he said, ISIS seeks to curtail their efforts and portray the SDF as having failed in installing security and administering the region.