Civilians in Syria's Idlib province are not confident that a fresh truce brokered by Russia and Turkey, effective early Sunday (January 12th), will hold, a local activist said.
They said the Syrian regime has used previous ceasefires to prepare for new military operations that have resulted in further casualties and displacement, activist Haisam al-Idlibi told Diyaruna.
The truce calls for the suspension of ground military operations and airstrikes in and around the Idlib region, al-Idlibi said.
"But civilians do not trust the truce, based on past experiences," he said, "which taught them that the Syrian regime uses these lulls in the fighting to regroup and mobilise its forces, and organise its ranks to launch new offensives."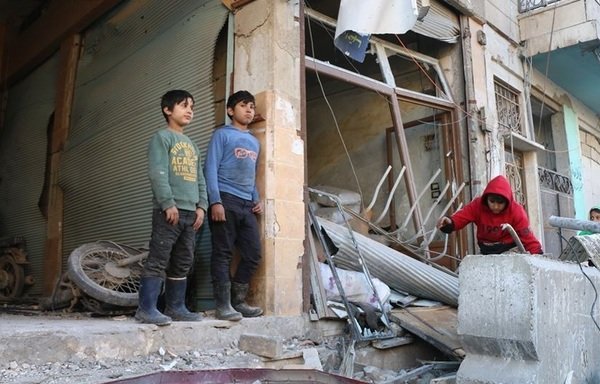 The regime broke the truce in the early hours of Sunday, shelling the cities of Maaret al-Numan and the towns of Maar Shamshah, Hantounin, Talmenes, Babilah, Maasaran and Maar Shureen, al-Idlibi said.
On Saturday, the day before the ceasefire was to take hold, regime airstrikes killed 18 civilians in Idlib, the Syrian Observatory for Human Rights said.
Six children were among the dead, the Observatory reported.
Airstrikes killed seven civilians in Idlib city, it added, while separate raids on two towns near the provincial capital killed 11 others.
In Idlib city, the bombardment hit near a cultural centre, the Observatory said.
Scores of students, many of them crying, ran from the site of the blast in panic, AFP reported.
Less than 10 kilometres away, regime airstrikes hit a market in the town of Binnish, killing seven, according to the Observatory.
The market was mostly reduced to rubble, AFP reported.
South of Idlib city, raids hit the area of al-Nerab, killing four.
Dozens more were wounded in Saturday's strikes, al-Idlibi told Diyaruna.
Residents remain in place
Under the terms of the truce, al-Idlibi noted, humanitarian corridors must be opened to allow civilians in the region to leave for regime-controlled areas.
But area residents have not responded to the call to evacuate, due to their lack of trust in the regime and its allies, he said, noting that "not one family left through any of the crossings opened for this purpose".
These were identified as the crossing in the town of al-Hobait in southern rural Idlib, the Abu al-Dhuhour crossing in eastern rural Idlib, and a crossing near the town of al-Hadher, in southern rural Idlib, he said.
Al-Idlibi said civilians are opting to head for displacement camps, camp out in the open or even remain in their homes and risk coming under fire, rather than leave for regime-controlled areas.
This is because they believe that if they do so, they will be subjected to harassment or arrest in retaliation for their stance against the regime, he said.