Iraqi intelligence services are stepping up efforts to prevent logistical supplies from reaching "Islamic State of Iraq and Syria" (ISIS) remnants hunkering down in remote desert areas.
They are focusing on uncovering secret sources of logistical support that allow the extremists to survive in harsh environments, experts told Diyaruna.
Military intelligence reports have revealed a network of supporters that supply ISIS remnants with provisions, medicine and other essentials to help them stay alive.
On December 25th, the intelligence services penetrated and dismantled a 14-member cell in al-Qaim district in western Anbar province that was active in providing logistical support to militants in the desert.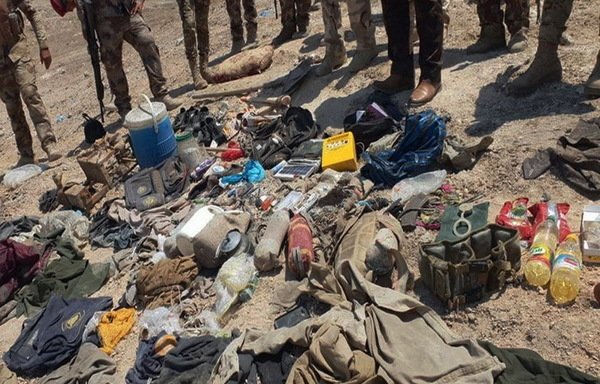 In a separate incident, intelligence services on December 16th arrested an individual in al-Sharqat district in Salaheddine province who was in charge of treating wounded ISIS fighters who survive security operations.
The intelligence services "have reinforced their efforts to hunt down individuals and terrorist cells that provide logistical support to ISIS elements hiding out in the deserts, mountains and remote areas", said security analyst Fadel Abu Ragheef.
These successes are part of an effort "to tighten the noose around terrorists and stop the flow of supplies that allow them to survive" despite being in isolated areas, he told Diyaruna.
The latest arrests targeted "key suppliers and carriers of food, medicine, fuel and other living essentials to terrorists' rest-houses", he said.
Civilians help security forces
Residents have played "a remarkable role" in helping uncover and capture the sources of these supplies, said Abu Ragheef.
ISIS remnants now primarily rely on local supporters to secure their logistical needs, especially as the tight security measures at the border with Syria have dramatically reduced their ability to smuggle in supplies, he said.
Thanks to the security pressure, these elements are no longer able to move freely from one place to another or to blackmail residents in remote villages and steal their crops, food and belongings or force them to pay taxes, he said.
Meanwhile, security operations continue to target secret ISIS cells that have been implicated in acts of terrorism.
"Two cells have been dismantled recently; a six-member cell in Salaheddine that was responsible for the latest explosions in Kirkuk and a four-member cell that was involved in two car bombs in Mosul less than a year ago," he said.
Support for ISIS is diminishing
ISIS elements suffer from "stifling isolation" in the desert, valleys and mountainous areas where they are hiding, but they "still receive some sort of support from their sleeper cells", said military analyst Safaa al-Aasam.
"It is difficult to imagine that these isolated elements do not receive some sort of supplies, but we are certain that logistical support is dwindling every day and is not like it was before," he said.
According to al-Aasam, security and intelligence operations have significantly weakened this support.
In the last few weeks, these operations have increased resulting in the dismantling of terrorist networks and the arrest of terrorists who supplied ISIS with food, medicine, fuel, cooking and sleeping essentials, communication devices as well as money, weapons and information.
Security operations also have targeted "terrorist locations and hideouts where dried goods and medical supplies are stored", he said.
Cutting off logistical supplies is "a key pressure tactic and a successful tool to eradicate terrorism", he said. "Our forces are making significant wins in this regard."
Such operations deprive the terrorists of the chance to settle down in any one location and force them to steer clear of inhabited areas, Anbar provincial council member Eid Ammash told Diyaruna.
Therefore, it is of utmost importance to carry on launching airstrikes that target ISIS food and weapons caches as well as their logistical support lines, he said.