The Iraqi parliament's vote to expel foreign forces from Iraq is a decision that does not serve the country but instead reflects "the will of Iran and affiliated groups, and not that of the Iraqi people", experts and citizens said.
Iraq's parliament held an extraordinary session Sunday (January 5th) in which it voted to commit the Iraqi government to cancel its request for assistance from the international coalition fighting the "Islamic State of Iraq and Syria" (ISIS).
It also called for an end to the presence of any foreign forces in the country and to prevent them from making use of Iraqi territory, water and airspace, according to a statement by the Iraqi parliament.
Ties have deteriorated after an American precision drone strike Friday that killed Iran's Islamic Revolutionary Guard Corps Quds Force commander Qassem Soleimani and top Iraqi military figure Abu Mahdi al-Muhandis.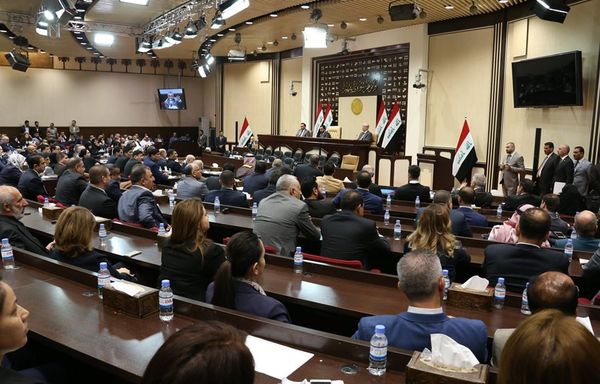 Some 5,200 US soldiers are stationed across Iraqi bases to support local troops preventing a resurgence of ISIS, AFP reported.
They are deployed as part of the broader international coalition, invited by the Iraqi government in 2014 to help fight ISIS.
US Secretary of State Mike Pompeo reacted to the parliament's move by saying: "We'll have to take a look at what we do when the Iraqi leadership and government makes a decision."
Britain, a key member of the international coalition, urged Iraq to allow soldiers to stay in the country, saying their work was "vital".
As the parliamentary session got under way, the coalition announced it was suspending its Iraq operations due to deadly rocket attacks on their bases.
"This has limited our capacity to conduct training with partners and to support their operations against ISIS and we have therefore paused these activities, subject to continuous review," it said.
Late Saturday, two missiles slammed into the Green Zone and another two rockets hit an airbase north of Baghdad housing US troops.
Decision 'regrettable'
The parliament's resolution is regrettable and does not serve the interests of Iraq and the Iraqi people, political analyst Ahmed Shawqi told Diyaruna.
"The country is still facing danger from terrorist remnants, who still have secret cells and groups, and the international coalition has been helping our security forces to strike them and prevent them from growing and increasing in number," he said.
Dispensing with the coalition forces' military support is "dangerous", he said, as these forces have been providing air cover and intelligence to Iraq in all its security campaigns against the terrorist remnants.
If the coalition support ceases, it will mean "that we will face great difficulties in monitoring ISIS remnants' movements, tracking them down and tackling their threats".
The decision also deprives Iraqi forces of international support with regard to training and qualification, which are key to raising their capabilities to handle threats and protect the country's independence and sovereignty, Shawqi said.
The decision has other implications, he said, as it would push towards "an isolation of Iraq internationally, consequently harming its economic interests".
Decision reflects Iran's will
"We are looking at irresponsible and emotional behaviour following pressures from Iran and the groups loyal to it, and it could cost us dearly, as any isolation will have a heavy impact on reconstruction and development projects in the country," Shawqi said.
The Iraqi economy, which suffers from an expected record deficit in this year's budget of up to $32 billion and relies mainly on oil sales, will not be able to contain any economic turbulence, he said.
The parliament's vote lacks legal basis, as it was issued at the request of a government that had resigned earlier and exercises its duties with limited powers to manage the country's daily life and not to make sovereign decisions, Shawqi stressed.
Before the resolution was passed, a number of members of Iraqi parliamentary blocs loyal to Iran chanted the name of Soleimani and raised pictures of him during the session.
"Parliament is controlled by parties linked to Iran, and the chanting that took place is no surprise, coming from representatives of those parties," a citizen from Baghdad who asked to be identified as Abu Firas told Diyaruna.
"What worries us is their vote to remove the coalition forces from our country -- a decision that does not represent the will of the Iraqi people, but rather the will of Iran and its groups," he said.
"Iran's political arms want to drag our country back to terrorism and deny us international support, only to satisfy the Iranian regime," said Faeq, another Iraqi citizen from Baghdad.
"Our demand, which we have expressed in the demonstrations, is that we do not want Iran to control our affairs and threaten our national interests through its proxies," he told Diyaruna.