Thousands of protestors blocked roads and bridges in southern Iraq on Monday (December 23rd), condemning Iranian influence and political leaders who have missed another deadline to agree on a new prime minister.
Protestors burned tires in major cities across the south, forcing the closure of schools and government buildings, as political paralysis deepened in Baghdad.
Negotiations over a candidate to replace Prime Minister Adel Abdul Mahdi, who quit in November, remained stalemated as a midnight Sunday deadline expired.
While a pro-Iran camp has tried to impose a candidate, Iraqi President Barham Saleh has reportedly put up resistance.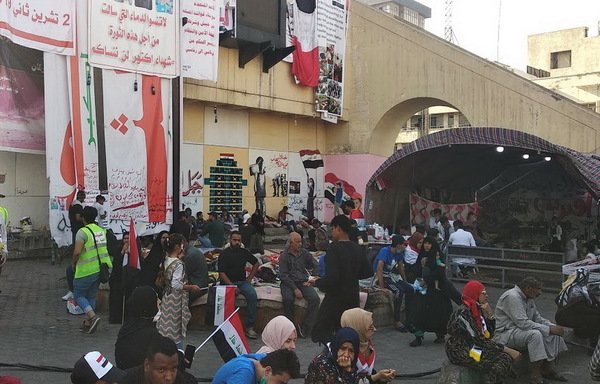 On the street, protestors are mobilising anew after weeks of relative calm.
Demonstrators announced civil disobedience campaigns in the southern cities of Diwaniyah, Nasiriyah, Hilla, Kut and Amara, where schools and public buildings were closed Monday.
For Iraqis protesting since October 1st, the political system has become dominated by Iran and is beyond reform.
Political paralysis
Officials say Iran wants to install Qusay al-Suhail, who served as higher education minister in the government of Abdul Mahdi.
"This is exactly what we oppose -- Iranian control over our country," said 24-year-old student Houeida, speaking from Baghdad's Tahrir Square.
The demonstrators categorically reject al-Suhail's candidacy, along with anyone from the wider political establishment.
While pro-Iran factions and parliament speaker Mohammed al-Halbusi are pushing for al-Suhail, a source in the presidency says Saleh has vetoed his appointment.
"What we want is simple: a prime minister who is competent and independent, who has never been involved with the ruling parties since 2003," said Mohammed Rahman, a protesting engineer in Diwaniyah.
Protestors say an overhaul of the political system must start with electoral reform.
Parliament has recently discussed electoral reform and was scheduled to resume talks Monday afternoon.
Lawmakers also were likely to continue negotiations to appoint a premier, the deadline for which has already been pushed back twice by Saleh.
Protestors set conditions
Iraqi demonstrators on December 11th presented their conditions for selecting an interim prime minister in a statement circulated to Iraqi media outlets.
They demanded that the qualities of the next prime minister "be compatible with the aspirations of the Iraqi street".
The new prime minister must be independent, unaffiliated with any political party, must not carry dual nationality and must not be serving as a minister, holding any ministerial level position, or as an MP or a governor, they said.
The candidate also must be independent of ties that would render him susceptible to foreign interference, the statement said.
In Baghdad's Tahrir Square, demonstrators put up large-format portraits of the official candidates with their faces crossed out in red.
In the event that it becomes difficult to name a candidate, Saleh will be obligated to assume the responsibilities of the prime minister in the interim, journalist Hadi Jalou Merhi told Diyaruna.
"The figures that have entered the race have all been rejected because they are not independent, rendering them ineligible for the position from the viewpoint of demonstrators," Merhi said.
Ensuring Iraq's sovereignty
Independence is a pivotal demand for the protestors, as the next prime minister cannot be a member of the parties that are currently in power, media activist Mohammed Imad told Diyaruna.
The Iraqi street believes these parties "have only been focused on their own interests rather than delivering desired reforms", he said.
The new prime minister must not be under pressure from a specific political party, he said, because the street is well aware of the restrictions placed by political parties and factions on the work and authority of the prime minister.
This dynamic would mean the candidate would be "unable to serve his country and address the issues of corruption and poor governance", Imad said.
The demonstrators are focusing their demands on this issue to ensure that the decision-making process of the next governments is "not subject to internal and external pressures... to protect Iraq from foreign agendas", he said.
"Iraqis took to the streets to protest the meddling in the affairs of their country," he said.
Demonstrators have put in place their conditions and have left the decision to choose the next premier up to the political parties, al-Mustansiriyah University political science teacher Issam al-Fayli told Diyaruna.
These forces are "obligated to make concessions and choose an independent and acceptable figure that wants to lift the country out of this crisis", he said.
The parties must respect the demonstrators' conditions for selecting a prime minister "because these are public demands that represent trade unions and clans and are also supported by the religious authorities in Najaf", he said.