The Iranian regime has been taking advantage of Syria's weakened state to extend its reach into the war-torn country and set up corridors through which it can move its forces and conduct illicit trade, analysts told Diyaruna.
To support its strategic interests, Iran has focused its efforts in specific areas.
These include the Mediterranean port of Latakia, which the Islamic Revolutionary Guards Corps (IRGC) has reportedly used to smuggle in arms and oil, in defiance of sanctions.
They include a proposed rail line, that would link Iran to the port of Latakia via Iraq, as well as land border crossings in the eastern Syrian province of Deir Ezzor, where the IRGC has been bolstering its presence and recruitment efforts.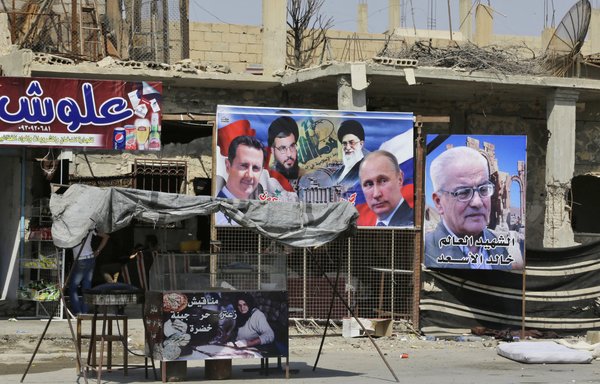 Gaining control of land border crossings between Syria and Iraq supports Iran's eventual goal of establishing a trans-regional land route, analysts said.
To further this scheme, the IRGC is building several new military bases near the border with Iraq, in a move military expert Wael Abdul-Muttalib has described as "provocative and dangerous".
The completion and full activation of the new base in Albu Kamal, near the border crossing with Iraq and the Iraqi border town of al-Qaim, could lead to further tension and clashes, Abdul-Muttalib told Diyaruna.
Satellite photos published by regional and international media outlets show that construction is under way on a large IRGC military base, reportedly known as the "Imam Ali" base, he said.
The photos show construction on eight structures has been completed.
'A provocative act'
The new "Imam Ali" base will enable the IRGC to import large quantities of weapons, missiles and logistical equipment into Syria and store them there, as well as to bring in and house fighters, Abdul-Muttalib said.
The IRGC's push to complete the construction of the military base it is establishing in the Albu Kamal area, along with a training camp in nearby al-Mayadeen, "is clearly a provocative act", he said.
The new base and training camp pose a danger both in terms of their size and their location in the Iraq-Syria border area, he noted.
If construction is completed and these bases remain in place, he said, this would provide the IRGC with a huge strategic advantage with regard to its operations in Syria, Iraq and Lebanon, where its proxy Hizbullah is based.
According to Abdul-Muttalib, the medium and long-range missiles that could be stored in these new facilities pose the most serious threat.
These would put not just Syria, but all the countries of the region at "irreversible risk" if Iran decides to use this base to launch missiles, he said.
The area is close to the newly reopened Albu Kamal/al-Qaim border crossing, and Iran has previously established an illegal crossing in the area.
IRGC base in al-Mayadeen
The IRGC has built another base outside al-Mayadeen in eastern rural Deir Ezzor, local activist Jamil al-Abed told Diyaruna.
IRGC-affiliated militias erected a wall more than two metres high around the base on all sides, completely obstructing view of its interior, he said.
A large number of trucks with covered cargo areas were seen transporting what seemed to be equipment and weapons inside the base, al-Abed said, adding that a large number of militiamen have been deployed to the region.
The IRGC has built a number of other bases in recent months dedicated to training new recruits from rural Deir Ezzor and the desert areas, he said.
The IRGC and allied militias appear to be in a race to expand their presence in the area, and have been stepping up their recruitment efforts, said Ayham al-Ali, an activist with the Albu Kamal Natives Corner Facebook page.
Local youth are being pressured to join IRGC-aligned militias, he told Diyaruna, with money and aid used to entice recruits denied to those who refuse, thus pushing the unemployed to join.
But as the IRGC rushes to expand its presence in Deir Ezzor, a power struggle between the Iranian and Syrian regimes has begun to emerge, he said.
As it attempts to assert itself and further its own interests, the IRGC has sought to minimise the presence of Syrian regime forces and restrict governmental and security institutions, he said.