Over the past two months, residents of rural Deir Ezzor and rural Daraa have been staging demonstrations demanding the departure of Iran-aligned militias and the release of detainees held by the militias and the Syrian regime.
The demonstrations in southern and eastern Syria are an extension of the large-scale protests in Iraq and Lebanon that have seen people take to the streets to denounce Iran's influence in their countries, experts said.
They reflect the mounting anger among local residents toward the Iranian regime's expansionist policies and bloody intervention in the affairs of their country, said Iraqi political analyst Ahmed Shawqi.
Wherever Iran-aligned militias are present, they exercise repression and intimidation tactics against local populations, he told Diyaruna.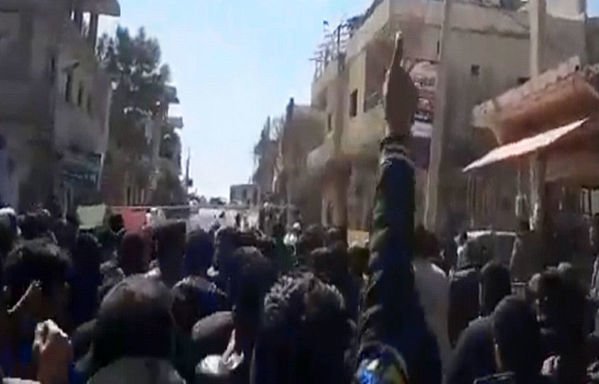 "But no matter how severely they oppress people, the fear barrier is inevitably broken as crowds take to the streets to denounce Iran's terrorism," said Shawqi.
Popular upheaval against IRGC presence
The militias planted by Iran's Islamic Revolutionary Guard Corps (IRGC) in Syria to support the regime of Bashar al-Assad have, for quite some time, "been facing popular upheaval rejecting their presence", he said.
These militias, as well as others affiliated with Lebanon's Hizbullah, "have committed numerous crimes against the Syrian people", he said.
"These terrorist groups continue to detain many Syrians who oppose them and the Syrian regime, and are committing the most heinous abuses against residents," he said.
The demonstrators are chanting slogans against Iran, Hizbullah and the al-Assad regime and expressing "legitimate demands, namely an end to Iranian hegemony and to live in peace and freedom", Shawqi said.
The Iranian regime "greatly fears popular uprisings against it because they threaten its strategic interests in the region, so it intervenes and aborts every protest using all the violent and criminal tools it has [at its disposal]", he said.
And just as it views the demonstrations in Iran, Iraq and Lebanon as an existential threat, the regime "also greatly fears for its influence in Syria, which it works hard to consolidate, particularly in the border areas with Iraq", he said.
Iran has been seeking to control the Syrian-Iraqi border by deploying its militias there and setting up training camps for them, Shawqi said.
He cited reliable sources as saying that Iran "plans to dig secret border tunnels to move ballistic missiles [into Syria] that are currently being transported from [Iran] and stored in secret camps in Iraq".
'Syria free...Iran out'
Most of the demonstrations in Daraa are taking place at night to avoid confrontations with Syrian forces and Iran-aligned militias, local activist Jumaa al-Masalma told Diyaruna.
They are concentrated in the towns of Kanaker, Maarba, al-Shajra, Hayt and Dael, he said, noting that these towns are scattered across western, eastern and central rural Daraa -- showing the widespread rejection of the IRGC in the region.
The demonstrators are raising banners denouncing the Iranian presence and demanding the exit of its militias from Daraa and Syria, he said, noting that banners reading "Syria Free Free ... Iran Out Out" are being widely used.
The demonstrators are also spray painting anti-IRGC graffiti on the walls in main streets and on the front doors of shops, said al-Masalma.
The IRGC is facing stiff resistance to its attempts to recruit youth in the region, who are refusing to join despite the dire economic conditions and the knowledge that they would be harassed by security agencies as a consequence, he added.
Local rejection of the IRGC's influence has escalated to a point where a prominent Hizbullah official in the region was assassinated this month, al-Masalma said.
Ahmed al-Nakhlawi was killed in the city of Tafas in western rural Daraa on December 7th by an unidentified armed group.
Al-Nakhlawi, who specialised in recruitment operations, was one of the most prominent Hizbullah officials in the Daraa region and southern Syria.