Investigation into the recently discovered mass grave near the city of Fallujah is "in full swing", the Anbar Martyrs Directorate said Wednesday (December 18th).
The directorate has "completed the procedures for an initial survey of the grave", which is scheduled to be opened in the coming days to determine the number and identities of the victims, it said.
The mass grave was found early this week in al-Fayyad village, about 10 kilometres south-east of the Fallujah city center, after a farmer dug a trench to irrigate his crops.
"We received a report from al-Tahaddi police station that a citizen has found the remains of bones and clothes, and we immediately set up a team of our directorate and the Mass Graves Protection Department to look into the matter," Mustafa Abu Risha, the director of the Anbar Martyrs Directorate, told Diyaruna.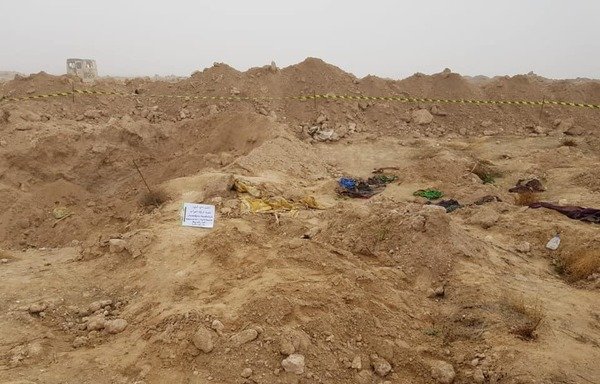 The team on Sunday conducted a preliminary survey of the site and found human remains, he said. Security forces were then directed to fence the site off to prevent a loss of evidence and to compile a preliminary report on the incident.
"Investigation into this grave is in full swing, and it is getting a high level of attention from the Martyrs Foundation and the Mass Graves Protection Department, as well as from the local Anbar government and MPs from the province," Abu Risha said.
Specialised teams will extract and count the remains and transfer them to a forensic medicine lab for DNA testing to determine the victims' identities, he said.
ISIS's crimes in Anbar
Press reports have pointed the finger at "armed factions" for being responsible for the mass grave.
However, Abu Risha stressed that identifying the perpetrators will be determined at the end of the investigations, "and it is the responsibility of the concerned investigative authorities".
During its control of Anbar between 2014 and 2017, the "Islamic State of Iraq and Syria" (ISIS) committed many horrific massacres against the local population, he said.
"Approximately 15 mass graves have been discovered to date in different areas of the province that hold victims who had been killed by the terrorists," he noted, and those graves "have not been opened so far due to a lack of funding".
The newly discovered grave will be "the first mass grave to be opened in our province," he said, "and it is hoped that the rest of the previously found graves will follow".