Russia's military, whose reputation has been tarnished by a series of deadly mishaps, suffered yet another setback after a fire broke out Thursday (December 12th) on its only aircraft carrier.
The Admiral Kuznetsov has been undergoing repairs for more than two years in Murmansk and suffered previous damage in October 2018 when a crane crashed onto its deck.
State news agency RIA Novosti quoted a source in the Zvezdochka shipyard as saying the fire broke out during welding operations.
Authorities reported at least 12 injuries, with six patients in intensive care, according to Russian media. They have reported one death so far.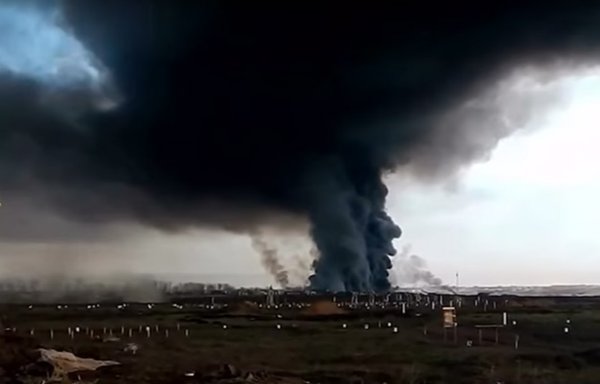 More than 400 people were on board when the fire erupted, state news agency TASS quoted a Zvezdochka spokesman as saying.
The fire spread over an area of about 600 sq. metres, according to Interfax.
The Admiral Kuznetsov -- launched in 1985 and the flagship of the Russian navy -- has been undergoing its first major repairs since 1997.
The repairs were expected to be completed by the end of 2020, with the warship rejoining the navy in 2021.
The ship's recent deployments have aided controversial Russian clients in the Mideast and North Africa.
The Kremlin sent the vessel to the Mediterranean in 2016 and early 2017 to strike targets in Syria, led by Moscow ally President Bashar al-Assad.
The ship headed a naval group off the Syrian coast, with fighters from the carrier hitting more than 1,200 targets during its mission.
Russian military operations in Syria have resulted in more than 6,500 civilians deaths since 2015, said a report issued September 30. Among those dead are 1,928 children and 908 women, according to evidence collected by Syrian activists on the ground.
It also stopped off the coast of Libya in January 2017 and took on board military strongman Khalifa Haftar, whom Russia has reportedly backed in the country's long-running civil conflict.
The ship suffered several mishaps during the mission, including the crash of a Sukhoi fighter jet into the sea after it tried to land on the carrier.
The repairs and upgrades -- with a reported cost of up to 62 billion RUB ($1 billion) -- were to focus on the ship's power plant and onboard electronic systems.
Last year's collapse of the crane on the ship's deck, which killed one worker and caused major damage, raised concerns the work would be delayed and the carrier out of commission beyond the 2021 deadline.
Russia's navy has been battling problems with state financing, ageing shipyards, and delays in fulfilling orders for new ships.
In the last six years, three fires have been reported on submarines under repair.
The Admiral Kuznetsov was meant to be the first of a new fleet of Soviet aircraft carriers, but the Russian navy has struggled with a massive drop in funding since the 1991 collapse of the Soviet Union.
The Soviet Union had five aircraft carriers at the height of its power.
A multitude of military disasters
The December 12th fire is one in a string of disasters and accidents to hit the country's military, fanning growing concerns over Russia's defence systems.
On August 8th, a blast occurred in the closed city of Sarov, Nizhny Novgorod Province, about 500 kilometres east of Moscow, during a test of a nuclear-powered missile, resulting in the death of five staff members and releasing elevated radiation levels.
Earlier in August, the town of Achinsk, Krasnoyarsk Province, suffered explosions on multiple days at an ammunition depot.
The first explosion August 5th killed one person. Multiple explosions August 9th during a mine clearance operation at the same site injured at least nine persons, according to Euro News.
Meanwhile, on July 1st, 14 Russian seamen were killed in a fire on a deep submersible in the country's far north, according to its Defence Ministry.
Of the 14 victims, seven were high ranking naval officers, suggesting that that the vessel was not on an ordinary assignment. It is unknown how many seamen were on board the sub.
The Novaya Gazeta newspaper cited sources as saying that the accident took place on a nuclear AS-12 mini-submarine, also known as Losharik, which is capable of going to extreme depths.
In August 2000, the Kursk submarine sunk in the Barents Sea with the loss of all 118 aboard. An inquiry found that a torpedo had exploded, detonating all the others.
Russian President Vladimir Putin, who stayed on holiday for several days after the disaster, was criticised for his response.
Moscow controversially turned down foreign offers of assistance for the rescue effort.
In another accident in 2008, 20 Russians -- three naval officers and 17 civilians -- were killed by poison gas after a vessel's fire-extinguishing system was accidentally activated during trials in the Sea of Japan.
Then in 2011, one of Russia's biggest nuclear submarines, the Yekaterinburg, caught fire while undergoing repairs in dock in the Murmansk region.
Later it was reported the sub was armed with long-range nuclear missiles when it caught fire.
'Museum pieces'
Central Asian countries, which have long historical and political ties to Russia, find themselves owning hand-me-down military equipment from the Kremlin.
"Kyrgyzstan, Tajikistan, Uzbekistan and Turkmenistan mainly use old Soviet equipment, which today looks like museum pieces," said Ruslan Nazarov, an international relations analyst based in Nur-Sultan, in April.
The outdated weapons that Russia has delivered to Central Asian countries are unlikely to help them in a national emergency, warned Yuri Poyta, head of the Asia-Pacific Section of the Centre for Army, Conversion and Disarmament Studies in Kyiv, Ukraine.
"Such weapons can be used more or less effectively in limited, medium-intensity combat against the armed forces of weak states or against illegal armed groups," Poyta said, also in April.
However, Western countries have the advantage in modern-day military criteria, said Poyta, citing the need for "modern [systems of] intelligence assets, command-and-control, target illumination, unmanned robotised ensembles and high-precision weaponry".
To cover for its deficiencies, the Russian military often relies on hyperbolic claims of greatness.
One such instance was when Putin boasted last year in his state of the nation address that Russia had developed a new generation of "invincible" weapons.