Rather than living out the remainder of their lives as pariahs and fugitives, always looking over their shoulder, "Islamic State of Iraq and Syria" (ISIS) fighters have become more receptive to the idea of surrendering, experts say.
At one time, they noted, the group's fighters would have claimed that "fight till death" was a core tenet of ISIS ideology, leaving no room for surrender.
But faced with countless defeats, this ideology has become markedly weaker.
Following defeats across Iraq and Syria and the loss of control of key cities such as Mosul, Tal Afar and al-Hawijah in Iraq and al-Raqa in Syria, hundreds of ISIS elements have turned themselves in to the authorities.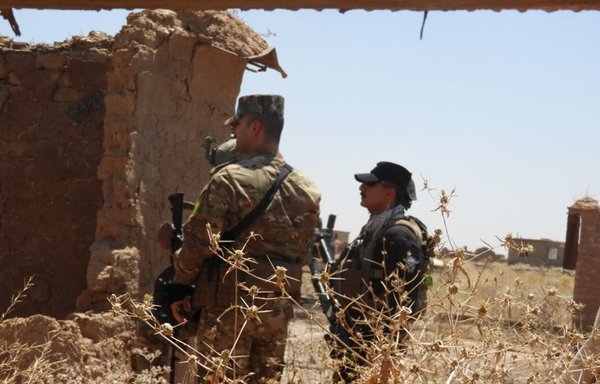 This wave of mass surrenders marks "the beginning of the end for ISIS", security expert Saeed al-Jayashi told Diyaruna.
Following the battle for al-Baghouz, the last remaining ISIS stronghold in Syria, for example, at least 2,000 ISIS fighters and their families surrendered to the Syrian Democratic Forces (SDF), he said.
During the past two months, nearly 1,450 ISIS fighters and family members from the group's Afghan branch, known as ISIS-Khorasan, laid down their arms and surrendered to the Afghan authorities.
This surrender occurred after the group failed to build a proto-state, "Wilayat Nangarhar", near the border with Pakistan, where Afghan forces declared the defeat of ISIS on November 12th after a series of security operations.
Al-Jayashi said this high volume of surrendering extremists indicates "their sense of frustration and dashed dreams of their group taking centre stage" following their defeat and loss of territory and combat capabilities.
The death of ISIS leader Abu Bakr al-Baghdadi and most of the group's senior leaders "had a deep impact on members", he said. "Surrender is now their last chance as they would ultimately face death if they were to carry on fighting."
'Disintegration' of ISIS
It is expected that the volume of surrendering ISIS elements will continue to rise in light of the "general demoralisation" that has afflicted the group, al-Jayashi said.
He said he thinks the remaining ISIS elements realise that "they are unable to seize any geographical area in Iraq or Syria, as this has been reduced to an imaginary scenario".
Despite their efforts to find a foothold in other countries, security pressure is preventing them from regrouping and pumping fresh blood into the organisation, he added.
Security analyst Safa al-Asam noted that this surrender shows the "disintegration of the ISIS edifice", which comprises networks and branches spread across several unstable environments.
The constant pressure on ISIS, wherever it has a presence, is helping to expedite the pace of the group's demise and will ultimately result in more voluntary surrenders, he said.
This is not the only motivation for surrender, he added, noting that ISIS elements feel resentment towards their leaders, whom they feel have deceived them with false slogans.
Al-Asam told Diyaruna that ISIS revealed its true nature to everyone, including those it had deceived and manipulated, making it clear that it does not defend Islam, as it alleges, and is nothing more than a "barbaric group".
'Impossible to rebuild trust'
"It would be impossible for this group to rebuild trust among the civilian population following the crimes it has committed, which have undermined its credibility and its sheer hatred for life," al-Asam said.
This prevents ISIS from "being able to recruit new fighters to make up for the severe shortages in its ranks", he added.
As a result of the successive surrenders of ISIS members, he noted, the group's media arm has been avoiding or downplaying the significance of the bad news.
The ISIS media operation's avoidance, denial and distortion of facts "reflects the failure of ISIS to manage its psychological warfare", said Hashim Hassan, dean of Baghdad University's College of Media Studies.
In a December 5th statement, Iraq's War Media Cell reported that 73% of news content carried by ISIS's Amaq news agency in November contained falsehoods, while the remainder was inconsequential in nature.
Hassan stressed that ISIS now exists "on paper only" in light of the collapse of its combat, financial and media capabilities.
This reality is what has been prompting its fighters to surrender, he said.