Hundreds of followers of the Iran-aligned Kataib Hizbullah streamed into Baghdad's Tahrir Square on Thursday (December 5th) to intimidate anti-government demonstrators who have denounced Tehran's role in their country.
Youth-dominated mass rallies have rocked Iraq's capital and southern cities since October, slamming corruption and the influence of neighbouring Iran.
Members of Kataib Hizbullah -- which is headed by Deputy head of the Popular Mobilisation Forces, Abu Mahdi al-Muhandis -- and other militias, attacked a number of demonstrators, observers said.
"They came here to clear us out and end the protests," Tamim, a 30-year-old demonstrator wearing a protective vest, told AFP.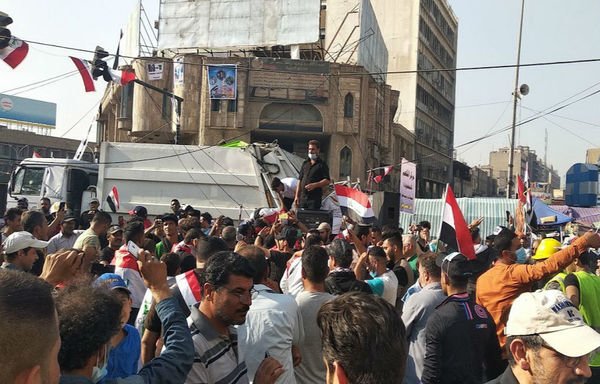 The militias dispatched their supporters to Tahrir Square from nearby neighbourhoods, raising slogans and banners that were out of line with the national demands, journalist Ziyad al-Sinjari told Diyaruna.
This was a clear attempt "to provoke the protestors into violent friction", he said.
The protestors exercised self-restraint in order to avoid being drawn into a conflict that will derail their peaceful demonstrations, he said.
"That consequently angered some militia members, who assaulted the demonstrators with knives and sharp tools," he said, noting that at least 25 protestors were stabbed, some of whom were in serious condition.
They received first aid in the emergency care booths spread out across Tahrir Square, said al-Sinjari.
'Desperate attempt'
"This is another desperate attempt by Iran-backed militias to thwart the popular protests, which have expressed [Iraqis'] outright rejection of these groups' domination and abuses against the Iraqi people," he said.
The militias have tried to kill demonstrators, kidnap and threaten activists, and publish fake news and photos to "distort and demonise the protests", he said.
After all these attempts failed, they started sending their elements and supporters to the streets in an attempt to intimidate the demonstrators and provoke them into violence, al-Sinjari said.
"The Iranian regime and its agents do not want the demonstrations to continue, as their success means the end of their influence and interests in Iraq," he said.
Iran and its agents "have been working for many years to consolidate [influence] at the expense of the [Iraqi] people's interests and their aspirations to build their country and ensure its stability, prosperity and independence", he said.
"The Iraqi people will continue their peaceful demonstrations until Iran and its proxies' domination is completely eliminated and they realise all of their goals," said al-Sinjari.