Salaheddine's local government is busy getting ready for the return of residents displaced by the "Islamic State of Iraq and Syria" (ISIS) in 2014 to their homes in al-Awja district of Tikrit.
Cadres from the Tikrit municipality and other service departments have begun a campaign to restore services and repair infrastructure in al-Awja in preparation for the return of internally displaced persons (IDPs), municipality director Omar al-Jarrad told Diyaruna.
The municipality has completed street sweeping and waste removal, and the water and sanitation departments are working to complete other service-related rehabilitation, he said.
"The work will likely be completed in just a few days," he said, "after which the locality will be ready for the return of the IDPs."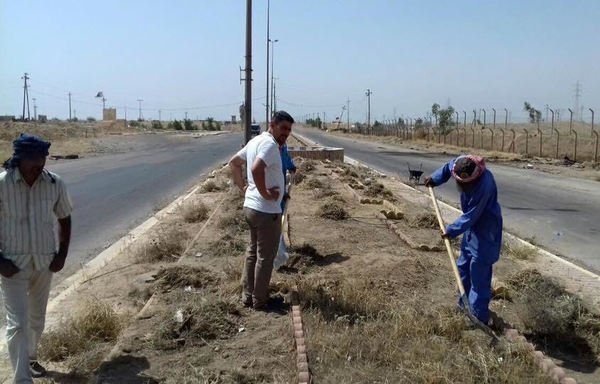 The biggest challenge is restoring the electric power facilities as they require extensive repairs and the installation of new power cables and transformers, he said.
Rehabilitation proceeding in stages
The rehabilitation work and preparations being made for the return of IDPs to al-Awja are proceeding according to a previously drafted three-point administrative service plan, Tikrit district governor Omar Shindah told Diyaruna.
The first step concerns the security aspect, he said. Security forces will secure the locality's entrances and exits, establish security throughout the locality, and prevent the return of terrorist groups.
At the same time, engineering teams will search residences and clear them of remnants of war and landmines.
The second step concerns getting basic services up and running, including municipal, drinking water and electricity services, as well as re-establishing the health sector and reopening schools for students, Shindah said.
The third step involves checking the IDPs' names and identification documents, and arranging a timetable for their return in stages.
Closing the IDP file
Al-Awja residents were displaced in 2014 during the war waged by security forces to expel ISIS from the area, and they had not been allowed to return until now for security reasons.
Residents also suffered a lot in previous years, as al-Awja is the birthplace of former Iraqi President Saddam Hussein and the hometown of his paternal cousins.
"Closing the IDP file throughout the province, and not only in al-Awja, has become an urgent necessity and must proceed without delay," said Salaheddine Tribal Council spokesman Marwan al-Jibara.
The return of IDPs to al-Awja will help promote social peace throughout Salaheddine and will be an important manifestation of "national, social and tribal reconciliation in the province", which is currently enjoying security and stability, he told Diyaruna.