Ninawa Operations Command on Thursday (November 21st) launched a search operation in the desert of Hatra and al-Baaj district to oust "Islamic State of Iraq and Syria" (ISIS) remnants from the area.
The operation is aimed at "drying up the terrorism sources, arresting persons wanted for trial and consolidating stability" in the desert areas south-west of Mosul, the Iraqi Ministry of Defence said in a statement.
The operation led to the discovery and destruction of seven ISIS rest-houses.
Security forces destroyed an explosive belt, three improvised explosive devices (IEDs) and detonation equipment found at the rest-houses, along with a truck bomb, the ministry said.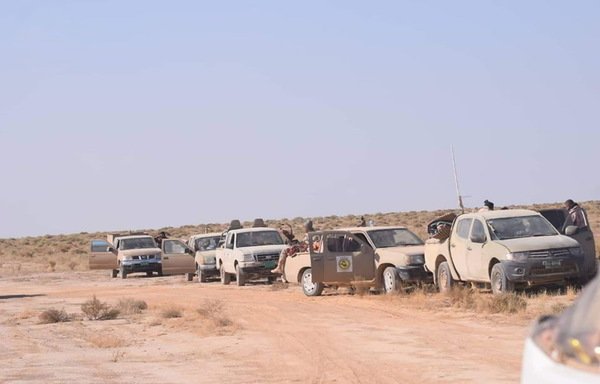 The operation comes as part of the regular sweep operations in the area, Hatra district mayor Basman al-Ahmadi told Diyaruna on Friday.
"It is particularly focused on the desert areas stretching from the town of Hatra towards al-Baaj district and the Iraq-Syria border," he said.
Two days ago, he said, Ninawa Operations Command and accompanying tribal forces carried out a search mission in the desert in the area of Tal Abta.
"But only two motorcycles were found that had been used by ISIS remnants for transport in the desert, in addition to four automatic rifles," he said.
ISIS has no room to manoeuver
"The security forces do not leave the terrorists any room to manoeuver and gather in the desert," al-Ahmadi said.
"They are constantly working to intensify tracking and to prevent the area there from turning into a terrorist hotbed that would pose a threat to cities and villages," he added.
"Army, police and tribal units deploy in search mission across vast desert areas located within what is known as al-Jazeera (Island) or al-Badiya (Desert) sectors," al-Ahmadi said.
Through aerial and ground reconnaissance of the target areas, they pinpoint the location of any ISIS hideouts in the area, he said.
The few remaining pockets of ISIS fighters in the desert have little chance of survival, al-Ahmadi noted.
"Even if they manage at one time to escape the military pressure, they will not survive for much longer," he said.
"It is only a matter of time."
Security supports reconstruction
Security successes are a key contributing factor to reconstruction efforts in the area, al-Ahmadi said.
"Stability motivates us to fulfill our commitments to fix public services and facilities destroyed by the terrorists during their occupation of the district," he said.
"We have rehabilitated several destroyed projects, most notably the health centre, the court office and the local council building, in addition to reopening three schools and rehabilitating roads," he added.
This includes an eight-kilometre stretch of an al-Jazeera area road, as well as the area's main bridge, he said.
Approximately 80% of the displaced population have returned to their homes in Hatra district, which had a population of about 22,000 before ISIS invaded it in mid-2014, forcing many to flee, al-Ahmadi said.