Khaleda Hussein, 47, just finished furnishing her house in the Anbar city of al-Karma in preparation for winter.
"This is the first winter in five years that we will have a roof over our heads and not have to wait in long lines for food," she said with apparent joy.
Hussein recently returned to her home in al-Karma, 15 kilometres north-east of Fallujah, along with hundreds of other families, from a camp for internally displaced persons (IDPs) south of Baghdad.
She and the other families were able to return to their homes after Iraqi security forces purged the areas and villages west of the town of the remnants of war left behind by the "Islamic State of Iraq and Syria" (ISIS).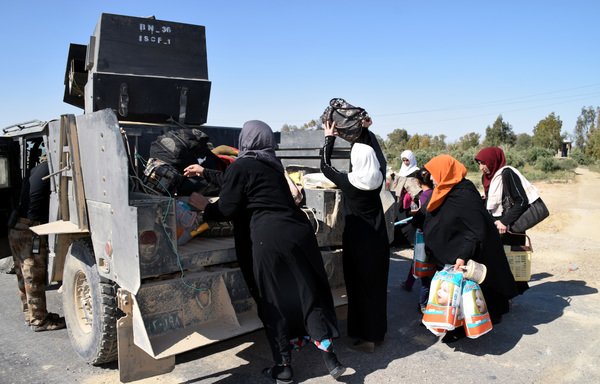 It has been a good year, Hussein said, "because it is the year I returned to my home and those who displaced us have been eliminated", including ISIS leader Abu Bakr al-Baghdadi.
Ready to rebuild
Although many obstacles remain in the liberated towns in terms of public services, residents say they intend to take part in reconstruction and rehabilitation operations.
Since mid-2019, thousands of Iraqi families have returned to their homes after the removal of war remnants left behind by ISIS, the rehabilitation of their areas, and the reconnection of electricity and water services, said Taleb Asghar Dosa, director general of refugee affairs at the Ministry of Migration and Displacement.
"The ministry seeks to accelerate the pace of the IDPs' return to their homes through working with the ministries of defence and interior which are responsible for the security aspect," he said.
Their work includes removing the explosive remnants of war and checking the names of returnees to ensure they were not involved in terrorist activities or crimes, he told Diyaruna.
"Any family that succeeded in returning to its own home was able to do so thanks to the efforts of Iraqi security forces who liberated their areas from ISIS," he said.
Now, municipal, electricity, health and immigration staff are working to normalise conditions in the liberated cities, he said, while UN agencies are implementing development projects in the health, education and environmental sectors.
Assistance for returnees
The Ministry of Migration and Displacement on November 5th released the third batch of financial grants in the amount of 1.5 million Iraqi dinars ($1,260) to each Iraqi family that recently returned to their homes in cities in northern, central and western Iraq.
The grants aim to help returnees get their affairs in order, as most need to rehabilitate and refurnish their homes or rent alternative housing.
The grants cover 9,733 families in the provinces of Anbar, Ninawa, Diyala, Salaheddine, Baghdad and Kirkuk, and follow two previous grants to 5,000 and 10,000 families, the ministry said in a statement.
"IDP families covered by the grants can receive them from the Smart card outlets deployed throughout the country," Minister Nawfal Bahaa Moussa said in the statement.
Iraqi forces are assisting in the movement of IDPs to their homes, said al-Karma's Assistant Police Chief Lt. Col. Abdul Sattar Ahmed.
The police and army used their vehicles to transport IDPs along with their clothes and other belongings because the Ministry of Transportation's buses could not accommodate all the returning IDPs, he said.
"This is a duty and we are honoured to contribute," he told Diyaruna. "After all, we all work to serve them."
Sleeping without fear
Abdulsalam al-Jumaili, an IDP from the Qanater district of al-Karma, joked that although he returned home a few days ago, whenever he wants to leave the house through the door, he pushes his hand upward instead of forward because he got accustomed to opening the canvas sheet covering the opening of his family's tent.
He said he is overjoyed to live in a house that has a door that can be closed.
"I am the happiest man in Iraq today," he told Diyaruna. "I see my four children sleeping in their room safely without fear of an insect slipping inside the tent or of them being drenched by rain."
The five years of displacement he experienced were very bitter, al-Jumaili said.
He said it is inconceivable that people today would listen to any kind of extremist rhetoric anymore.
"In the past, we remained silent about it, repeating the phrase 'it has nothing to do with me' -- until we ended up becoming IDPs, and others worse, dead bodies," he said.