Iraqi forces on Tuesday (November 19th) launched a surprise attack on "Islamic State of Iraq and Syria" (ISIS) remnants hiding in the area of Mutaibija in the ​​Samarra district of Salaheddine province.
Joint units of the Samarra and Salaheddine operations commands and the local police, with air cover from the Iraqi army, carried out a large-scale attack against ISIS in the area of Mutaibija, Samarra mayor Mahmoud Khalaf told Diyaruna on Wednesday.
"The attack resulted in the death of one terrorist in an airstrike on a secret ISIS hideout in the targeted area," he said, adding that at least 20 rest-houses containing food, blankets and cooking supplies were destroyed in the attack.
The forces demolished a tunnel and detonated six explosive devices, a fuel tank and a 20-kilovolt power generator, he said.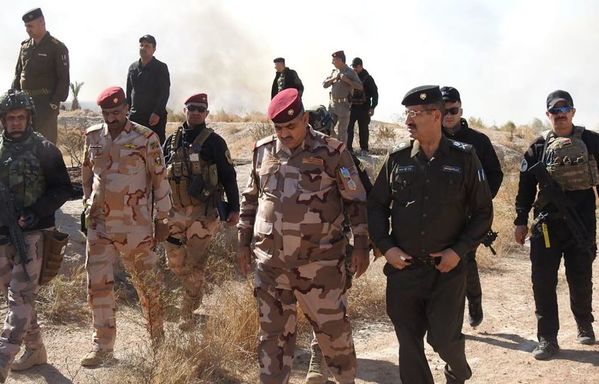 Additionally, two cargo trucks and a workshop in an abandoned house used for repairing ISIS elements' vehicles were destroyed, said Khalaf.
"Security forces move quickly to hit terrorist targets as soon as they receive relevant intelligence," he said, adding that the attack was based on accurate reports from reliable sources.
ISIS threat persists
The area of ​​Mutaibija, which lies between the provinces of Salaheddine and Diyala, has "complex geography, as it includes rugged terrain, dense vegetation and swamps", Khalaf said.
This environment allows for ISIS remnants to hide from aerial surveillance and avoid detection, he said.
The area is uninhabited and has many unmarked dirt outlets that allow the militants to escape and manoeuvre, especially at night, as they often prefer to move under the cover of darkness and hide during the day for fear of being detected, Khalaf added.
Last month, Iraqi MPs voiced fear that Mutaibija could become a serious security threat because of ISIS remnants' efforts to turn it into a gathering point to regroup.
But Khalaf downplayed those fears, stressing that the security forces' operations in the area "continue around the clock".
They are conducting intensive search operations against ISIS remnants in order to prevent them from regrouping and finding a foothold in any given area, he said, stressing that their numbers and activities are in decline.
Mutaibija has been the site of a large security operation following the killing of the commander of the federal police's 4th Division, Maj. Gen. Ali Kathem Naser al-Lami, and its director of operations, Brig. Gen. Mohammed Allawi, in an ISIS attack last month.