Salaheddine Operations Command on Friday (November 15th) announced it has destroyed eight sites used by "Islamic State of Iraq and Syria" (ISIS) remnants near the Allas oilfield, south of Tikrit.
Over the last two days security forces from the command have carried out a search mission "around the Allas oilfield", an official source told Diyaruna.
They discovered eight sites the group had used -- five tunnels and three rest-houses -- in the area stretching towards the Hamreen Hills, he said.
The sites were fully searched and were then destroyed, the source said.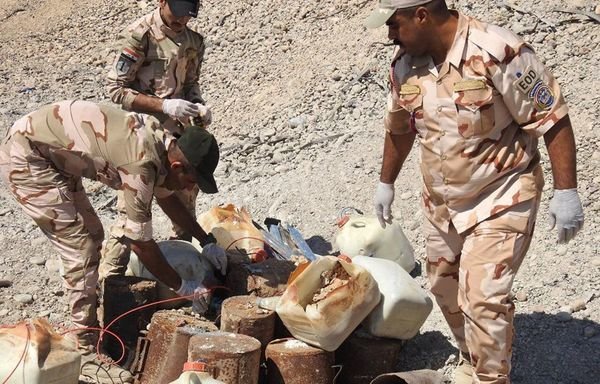 No weapons or explosives were found inside them, he said, just some supplies, including small fuel tanks, blankets and furniture.
But around 10 20-litre plastic jerrycans containing ammonium nitrate, which is used in making high-impact explosives, were found during the search, he said.
Security forces also defused and safely detonated nine improvised explosive devices (IEDs) that had been planted around the sites to prevent people from accessing them, he added.
Securing oilfields
The security mission is part of Salaheddine Operations Command's ongoing efforts to provide protection for the Allas and Ajeel oilfields, with the participation of the province's police and tribesmen, the source said.
"We routinely conduct duties, usually every day, carrying out a comprehensive survey of the target areas in search of any enemy sites or weapons hideouts," he said.
ISIS remnants remain a threat, he said, though their activities have been limited as they do not have the combat capabilities to launch a major attack.
Security forces from the command are proceeding according to a plan, he added, noting that tip-offs received from local residents and other intelligence sources have helped them deliver "painful blows to the terrorists".
"We have carried out many quality operations in different areas, and have been able to kill and arrest dozens of terrorists and to seize large quantities of weapons," the source said.
In series of October raids carried out with intelligence and police forces, forces from the command targeted ISIS remnants in northern Salaheddine, killing 12 militants who had been holed up in shelters and tunnels, the source said.
This operation was a "successful pre-emptive action" to prevent the ISIS elements from carrying out terror and suicide attacks, he added.