French President Emmanuel Macron's anticipated visit to Iraq this month is being met with high hopes in Iraqi circles that it will result in stronger ties with France and a boost to its economic investment in Iraq.
Both countries look forward to building a strong bilateral co-operation in the security, military, investment and development sectors, observers tell Diyaruna.
The positive climate between the two countries, which was cemented during the war on the "Islamic State of Iraq and Syria" (ISIS), is key to a far reaching and sustainable partnership, they said.
The Iraqi people are grateful for the role France played in the fight against ISIS, said Issam al-Fayli, a political science lecturer at al-Mustansiriyah University in Baghdad.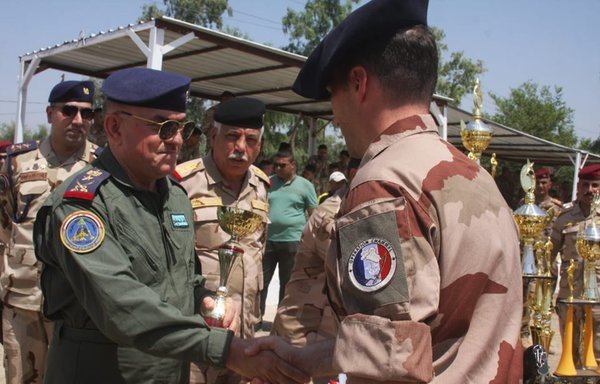 "The roots of the relationship between the Iraqi and French people go deep and and have been strengthened thanks to France standing by the Iraqis in their war on terror," he told Diyaruna.
In spite of the cruelty of the war and its effects, this strong relationship has stood the test of time, which, according to al-Fayli "is a key factor for the launch of a multi-faceted partnership that is stable and lasting".
Refining partnership through agreements
Aspects of this partnership can be further refined during Macron's visit in the form of agreements and memoranda of understanding, he said, most notably in the ongoing fight against terror groups.
"We already have a fruitful collaboration in this regard but we hope that President Macron's visit will result in bilateral agreements that would help bolster the technological capabilities of our security services in terms of communications, monitoring and tracking," said al-Fayli.
He underscored the importance of exchanging intelligence on the movements of extremists in addition to ongoing efforts to upgrade the Iraqi army's defence capabilities and to protect the country's borders.
French Foreign Minister Jean-Yves Le Drian also visited Baghdad on October 17th and held talks with senior officials on several topics, including security and counter-terrorism collaboration.
France has taken Iraq by the hand and helped it cross to safer shores, Iraqi security expert Ahmed al-Sharifi told Diyaruna.
He explained that in spite of the steep costs of its Rafale air raids, Paris has not hesitated or delayed its response to Iraqi request for support and their strikes against terror strongholds were painful, he said.
"The French government today supports Iraq's plans to bolster its security institutions in the war against terrorism so it can defend its national sovereignty and maintain peace," al-Sharifi said.
"Strategic partnership agreements at the military level should be geared towards upgrading our defence and combat systems in terms of armament, supplies and logistical and technical support as well as training human resources," he said.
Similarly, economic and investment opportunities must be discussed as Iraq has just emerged from a war that has exhausted its infrastructure and now needs significant support from its friends and allies, particularly France, he added.
Optimistic about visit
Officials from both countries hope to increase annual trade between both countries as current French exports to Iraq stand at 300 million Euros ($332 million), while Iraqi oil exports to France are estimated at 480 million Euros ($534 million).
French investments in Iraq are worth 270 million Euros ($300 million).
France has allocated 455 million Euros to support reconstruction in Iraq, 430 million of which are in the form of loans and 25 million is aid earmarked for services in liberated cities.
France has not abandoned Iraq during the hardest of times and has stood by it until ISIS was defeated, said Ninawa provincial council member Hassan Shabib al-Sabaawi.
"The French have been steadfast in their support for Iraq and their help in building our army and towns that were destroyed by terrorism is best proof of that," he told Diyaruna.
"We are optimistic about the French president's visit and view it as a reflection of his government's continued interest in supporting our country," he said.