Work is under way in a western Anbar district to rebuild houses damaged during battles to oust the "Islamic State of Iraq and Syria" (ISIS), a local official said.
The effort is part of a new campaign to restore residential areas of al-Baghdadi district as residents return from displacement camps, district director Sharhabeel Kahlan al-Obeidi told Diyaruna on Wednesday (November 13th).
Al-Baghdadi district is conducting the rebuilding campaign co-ordination with the International Organisation for Migration (IOM), al-Obeidi said.
The campaign will first focus on "damaged houses in the centre of the district, where work has started on 10 houses in al-Muasasa neighbourhood", he said.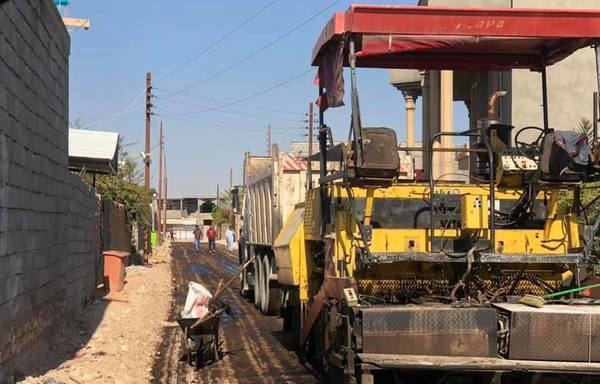 It will then move on to rebuild homes in villages and rural areas within the district's administrative boundaries, he added, with the eventual goal of rehabilitating at least 700 damaged homes throughout the district.
IOM will finance the reconstruction projects and will provide oversight, along with the local administration, in order to ensure the work is completed as required, he said.
The campaign will support stability in the area and is intended to keep local residents from returning to the displacement camps, al-Obeidi said.
Local authorities have ended the displacement crisis in the area, he claimed, pointing out that there are no longer any al-Baghdadi residents in the camps.
"All the people who were displaced to the camps of Kilo-18 and the tourist area in al-Habbaniya have returned to our city," he said.
Al-Baghdadi has a population of about 30,000, most of whom left the city after the ISIS fighters overran it the beginning of 2015.
Improved security, services
Many factors have encouraged the local population to return, with the most important being the stable security situation, al-Obeidi said.
Al-Baghdadi is "well-secured, and sufficient units of al-Jazeera Operations Command and the army's 7th Division are stationed there, in addition to tribesmen", he said.
These forces carry out bimonthly sweeps of the surrounding desert, and have safeguarded the city "from terrorist penetrations and surprise attacks", he said.
The district's administration has been working to restore services to the area, he said, and has now "rehabilitated all water projects and power lines" and rebuilt six schools, with a further four schools undergoing rehabilitation.
This is in addition to "massive work to rebuild all of the city's streets and roads", al-Obeidi said.
The three kilometre Jubbah road and its subsidiary roads have been fully restored, he said, while the nine kilometre al-Doulab road is expected to reopen soon.
The district's efforts to encourage reconciliation and promote tolerance also have been a factor in encouraging residents to return, he said.