Demonstrations have been staged in several areas of the southern Syrian province of Daraa to denounce the actions of the Syrian regime and the growing Iranian presence in the region, a local activist said.
The protests were staged in response to inroads Iran's Islamic Revolutionary Guard Corps (IRGC) has made in areas controlled by the Syrian regime, which the regime has been enabling, Daraa activist Jumaa al-Masalma told Diyaruna.
Daraa residents reject the Iranian presence, he said.
Demonstrators held signs denouncing the actions of the Syrian regime in Daraa, particularly the random arrests of young men.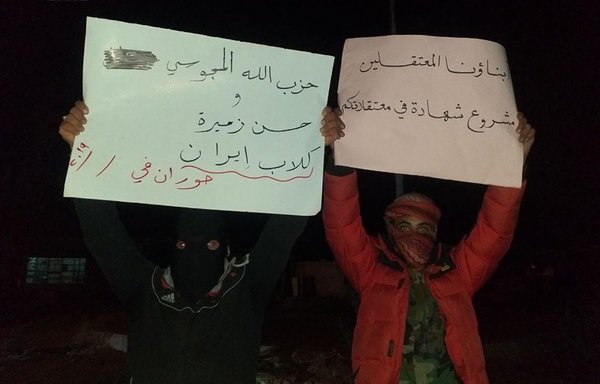 They also expressed their ire at the spread of IRGC-linked militias and institutions, which are attempting to expand Iran's influence in the region with the support of the Syrian regime forces, he said.
These institutions have been facilitating recruitment operations by taking advantage of the difficult economic circumstances residents are facing, he said.
They seek to gain influence and sway public opinion in their favour through the distribution of monthly aid, he added.
Call for release of prisoners
The protesters called for the release of political prisoners, al-Masalma said.
They expressed their rejection of the regime's policies in Daraa, which include a harsh security crackdown, the absence of developmental assistance and lack of job opportunities, despite the regime's promises to address this.
Al-Maslama noted that the number of Daraa residents who have been detained by the regime is now in the thousands.
There have been reports that some have been subjected to torture in the regime's prisons, where conditions are poor and disease is rife, he said.
Recent anti-regime campaigns in the southern region have included the distribution and pasting of flyers on walls in public areas, he said.
These denounce the Syrian regime and call for an end to the Iranian military presence and hegemony.
There has been a spate of recent attacks on Syrian regime forces, he said, the latest of which was an armed attack on a checkpoint in Um al-Mayathen and Gharz in rural ​​Daraa that killed three regime soldiers injured others.
Previous attacks targeted fixed checkpoints, where identity cards are inspected and are youth are often detained, even though they are purportedly covered by the pardon stipulated by the reconciliation agreement.