Iraqi forces, backed by international coalition warplanes, carried out a surprise raid on "Islamic State of Iraq and Syria" (ISIS) hideouts in the highlands of Makhmour district, a local official said Tuesday (November 12th).
The two-day military operation was carried out by a special force comprising members of the Counter-terrorism Service (CTS) and the Iraqi army's 14th Division, Makhmour district mayor Rizkar Mohammed told Diyaruna.
The special force destroyed several hideouts belonging to ISIS remnants in the Qara Chokh mountain range, south-east of Mosul, Mohammed said.
"The security operation surprised the enemy and resulted in the death of at least 14 enemy elements who were hiding in caves they were using as bases," he added.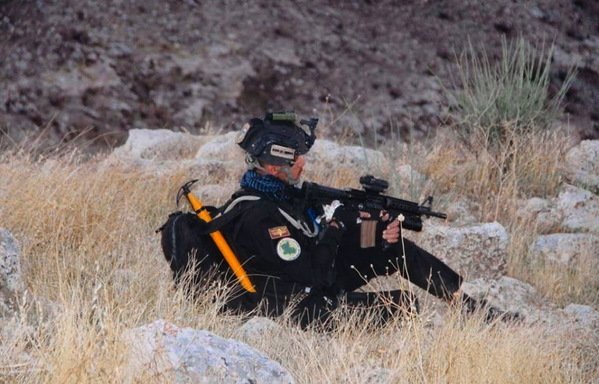 Many ISIS remnants who fled the liberating forces have sought refuge in the Qara Chokh mountains, he said, noting that the threat lingers despite security operations conducted over the course of two years in that area.
"The terrorist elements do not hide only in the hills, but also in the deserted and destroyed villages," Mohammed said.
There are 76 small villages in the area, he said, noting that only half of the population has returned since the battles to oust ISIS because of the destruction caused to their homes and to public services.
A lingering threat
ISIS remnants still pose a threat to returning villagers, Mohammed said, noting that there was an explosion in the village of al-Adla just two days ago.
One person was killed and another was injured in the blast, he said.
Mohammed urged the security forces to continue their raids on ISIS hideouts, and to increase the number of security personnel in the area.
"The forces of the 14th Division's 50th brigade are currently in charge of security and are executing their missions with great efficiency," he said.
But Makhmour district would welcome additional troops, he added, and a strengthening of efforts to protect it.
The security issue is not the only challenge, Mohammed said.
While approximately 90% of the displaced population has returned to the district centre, Makhmour still suffers from poor services, he said.
Local authorities have not had the resources to repair some of the infrastructure destroyed during the battle against ISIS, he added, calling on the federal government to step in and improve the state of services in the district.